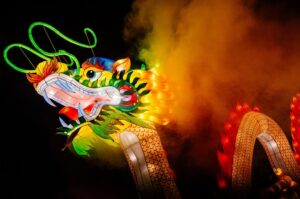 Here are selected events that you definitely need to get in February 2019: true Chinese festival of giant lamps, personal exhibition of Boris Grebenshchikov, a battle of DJs of Belarus, "hot" dances with loved ones, cinema with wine, stand-up and etc.
Do not allow yourself to be "entangled" in a series of February holidays: you can find a lot of interesting activities besides searching gifts!
We have prepared for you a list of the best events of February 2019, both free and paid.
So lets go!
Chinese festival of giant lamps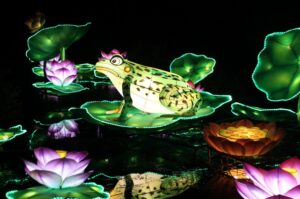 What: festival
Where: Central Botanical Garden of the National Academy of Sciences of Belarus, sq. Kalinina
When: From February 14 to March 31, from 6:00 pm to 11:00 pm
Price: adult – 16 rubles, children (from 4 to 12) – 10 rubles.
Are you dreaming about traveling to China? You will have the opportunity to join the traditional Chinese holiday for a couple of hours in the Botanical Garden of our city.
One of the ancient tradition, which is already more than 2,000 years old — Chinese "Lamps Festival" — was the inspiration for the show. It is celebrated on the final day of the two-week Chinese New Year, which this year falls on February. People light lamps at their homes across China. There are bright shows showing the art of lanterns in all its diversity.
The show "Festival of Giant Chinese Lamps" was created by the Chinese company Haitian Culture based on ancient traditions and modern technologies. The stromg frame is artfully covered with multi-colored fabric and skillfully illuminated from the inside, so that the exhibits seem to be absolutely weightless despite its rather big size.
More than 25 large-scale light compositions, including more than 500 objects, will arrive in Minsk. This is an amazing journey into the world of fairy tales, where amazing animals, birds, plants and many other images at the junction of reality and fantasy await you. The guests of the show can also visit theatrical performances, fair and food court.
Locals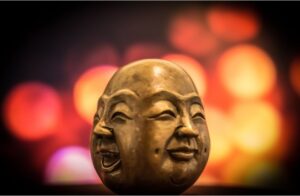 What: party
Where: Oktjabr'skaja str. 16
When: 1 february
Price: 8 rub.
Source: citydog.by
JAGERVIBES have prepared something sharp like a samurai katana this time! Locals. is a party created to develop the Belarusian local DJ scene. The main direction of music this evening is hip-hop.
As always, in the best traditions: 10 kilowatts of sound, a well-conceived concept of a party, ranging from light, cutting through space, and ending with installations. Bar with a wide selection of cocktails, small gifts at the entrance for you and your friends.
At the locals you will hear 5 DJs – the best samurai with excellent musical taste.
Line up:
KIPAH
AWLNIGHT
VLAD
GONZO
FEDOSIK
IDUB
Are you ready to have a great party?
Dreams about France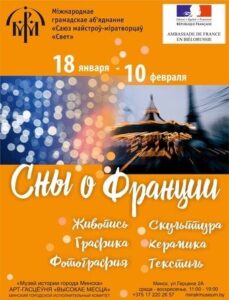 What: exhibition 
Where: st. Herzen 24, "Vysokae Mesta" 
When: from January 18 to February 10, from 11:00 to 19:00 
Price: adult – 3 rubles., Student – 2 rubles., Children – 1.5 rubles.
The exhibition "Dreams of France", organized with the support of the Embassy of France, was opened in the Art-living room "Vysokaye Mesta" from January 18.
This project will show you the reflections of France in Belarusian contemporary art: from direct reference to architectural monuments, landscapes, personalities and events from the country's history to the processing of the artistic experience of the French school of painting. France cultural trends had a significant impact on the development of world science, architecture, literature, etiquette and art in general. Paris left its indelible mark on the fate and work of many famous Belarusian artists.
The variety of material creates a multi-faceted exposition, offering the viewer the opportunity to get acquainted with the various types and forms of contemporary Belarusian art.
The project includes master classes and an educational program.
Totems Zimogorov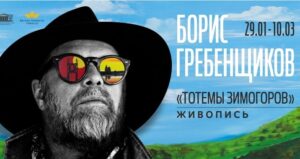 What: exhibition 
Where: National Art Museum of Belarus, st. Lenin 20 
When: January 29 to March 10, from 11:00 to 18:30
Price: 8 rub.
This month the Minsk National Art Museum will host a personal exhibition of paintings by the famous musician, the permanent leader of the Aquarium group, Boris Grebenshchikov for the first time.
His exhibitions were held in St. Petersburg, Moscow, London, New York since the end of the 80s. The basis "Totems Zimogorov" will include more than 30 works of recent years, some of which will be exhibited for the first time.
Grebenshchikov's paintings, like his songs, are characterized by a game with images, an intrinsic outsider philosophy. Boris Borisovich gives particular preference to the landscape genre, in which he miraculously combines graphic and musical fabric.
B.G. it will be possible not only to watch, but also to hear, as the exposition series will be supported by the instrumental music of the author, created specifically for the museum project.
It is known that Boris Grebenshchikov writes some songs for money from the sales of his paintings. Therefore, special connoisseurs of his work will be able to obtain from the author his favorite work in their private collection at the end of the exhibition.
Stand-up in Cuba Bar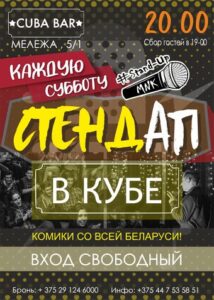 What:  stand-up
When: Minsk, Melezha str. 5/1, room 1, «Cuba Bar»
When: every Saturday of February in 20:00
Price: free
Stand-up has long been loved by the belarusian youth: more and more guys and girls are trying to make the audience laugh and show their wit on the stage.
After all laugh is a cure for all diseases.
Stand-up in "Cuba" is an event in which anyone can perform with their funny monologue.
The amount of participants is limited: 10-12 people. Everyone has 5-7 minutes on the stage to laugh the viewer. There are no restrictions. The comedian fights for laughter and applause – everyone is kicking! The organizers will not leave the spectator aside — the most cheerful will receive a gift from CUBA BAR Minsk.
Read more about best restaurants in Minsk.
Cinema with vine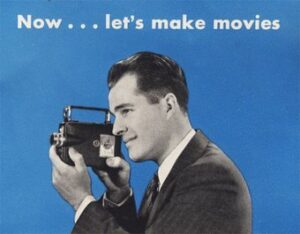 What: cinema
Where: Minsk, Kujbysheva str. 22, «PhotoScvot»
When: every Sunday of February in 19:00
Price: on donation
Amators and  cinema and vine gurus, good people gathers in PhotoScvot every Sunday for talking about the film, to watch different pictures and learn something new through the prism of photography and cinema.
«Good films,current topics and aesthetic enjoyment,» — it is a good slogan!
FotoSkvot shows films, you — choose them. Evereyones wishes will be heard. Anyone can also present the film with an introductory part and have the final word. Questions, remarks, comments are commendable and highly recommended.
You can watch: documentary / game / short / animated & etc films about photographers, about photography, and also just great things for expanding horizons, thinking and aesthetics.
Open class of dancing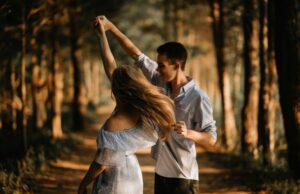 What: active 
Where: February 4, 11, Mayakovsky st., 129February 5, Kal'varijskaja str, 9 
When: February 4 to 11 
Price: first lesson for free
Dancing is relaxing, dancing is toning, and Latin American dancing also fuels a crazy fire between partners! Passionate dancing is not only tango. Latin America still has a lot of famous dances, but that doesn't mean less sexy dances. Isn't it a perfect pastime for couples?
Kinezis dance studio invites everyone to open classes in pair social dances!
More detailed schedule:
February the 4th, 21:00 – salsa (room оn Majakovskogo str. 129)
february the 5th, 19:40 – bachata (room on Kal'varijskaja str. 9)
february the 5th, 20:40 – salsa (room on Kal'varijskaja str. 9)
february the 11th, 22:00 – зук (room оn Majakovskogo str. 18а)
Evening of blues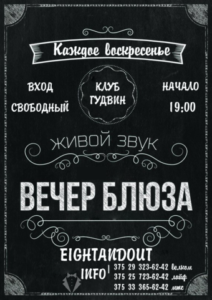 What: party
Where: "Goodwin", Minsk, Nezavisimosti Ave., 19
When: Sundays from 19:00
Price: free
Imagine the simplest bar in America of the 60s: small tables, cigarette smoke, an old piano, an African American on stage, performing, of course, blues is the most concise, simple and uncomplicated musical genre.
But behind him hides the overwhelming sadness of man, melancholy, resulting in incredible beauty and endless joy.
Did you miss the emotional music that tears the soul apart? You can enjoy live blues every Sunday.
Welcome to Goodwin!
Are you planning to visit Minsk? So you should read this.
It was the top 8 events in Minsk in February 2019. Subscribe to us on social networks in order not to miss the top of the next month!