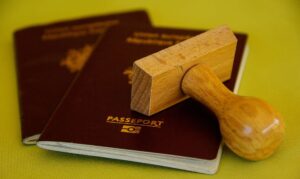 You want to go to Belarus, but you don't know if you need a visa or you don't know how to get a visa to Belarus?
In this article, we will tell you everything about obtaining a Belarusian visa, its price and required documents.
Visa-free regime in Belarus for citizens of 80 States
Entry and exit of citizens of 80 States are visa-free for up to 30 days if made through the Minsk National Airport checkpoint.
To enter the Republic of Belarus in the visa-free regime through the Minsk National Airport, foreign citizens must have:
  a valid passport or any substituting document to travel abroad;
  money: for every day of stay amount in a foreign currency or Belarusian rubles, the equivalent of not less than 2 basic units;
  medical insurance in an amount not less than 10000 euro, valid in Belarus.
Find out if you need a visa to Belarus here
Types of entry visas to Belarus
The Republic of Belarus provides the following types of visas:
 B) transit, valid for 2 days;
 C) short-term with validity up to 90 days;
 D) long-term with validity up to 1 year and stay of up to 90 days.
Entry visas are divided into single, double and multiple.
Documents to obtain a visa to Belarus
In order to obtain an entry visa to Belarus, a foreigner provides to the bodies that issue entry visas of the Republic of Belarus the following documents:
one copy of the visa application form according to the approved form (http://mfa.gov.by/docs/visa/visa_en.html);
one photo (size 35 x 45 mm, it should be taken not more than 6 months before);
document for travel abroad;
visa support documents;
additional documents necessary for making a decision on issuance of entry visa (on demand of the consular officer);
health insurance;
proof of payment of consular fees.
From January 1, 2017, the following rates of the consular fees for visas are established:
individual - 60 euros (for all types of visa with any number of entries)
group (per person) - 10 euro.
With regard to citizens and residents with special status in Latvia, Lithuania, Poland, Estonia, Japan and Serbia different rates of consular fees are set.
You can find more information on the website: http://mfa.gov.by 
List of countries, which citizens can visit Belarus without a visa:
| | |
| --- | --- |
| Citizens of the Republic of Belarus with civil passports: | In Belarus for foreign citizens on civil passports: |
| Azerbaijan | Azerbaijan |
| Albania (up to 90 days for private purposes and for tourism, for the period from June 1 to November 1) | Armenia |
| Antigua and Barbuda (up to 30 days) | Brazil (up to 90 days) |
| Armenia | Venezuela (up to 90 days) |
| Barbados (up to 28 days) | Georgia |
| Brazil (up to 90 days) | Israel (up to 90 days in each period of 180 days) |
| Vanuatu (up to 30 days) | Kazakhstan |
| Venezuela (up to 90 days) | Qatar (up to 30 days) |
| Viet Nam (up to 15 days) | The People's Republic of China (up to 3 days if arrived in Belarus by direct flight from the national airport and the availability of a Schengen visa or for group tours) |
| Honduras (up to 90 days if having a valid visas to the United States, Canada, the Schengen visa or visas of Guatemala, Nicaragua or El Salvador) | Cuba (up to 30 days) |
| Haiti (up to 90 days) | Kyrgyzstan |
| Gambia (up to 90 days) | Special Administrative Region of Macau S.A.R. of CHINA (up to 30 days) |
| Georgia | Macedonia (in case of private invitations/telegrams, or invitations of health institutions for treatment, requests of the tourist company, or to visit the burials) |
| Dominica (up to 21 days for tourism purposes and having the return plane ticket) | Moldova |
| Israel (up to 90 days in each period of 180 days) | Mongolia (up to 90 days) |
| Indonesia (up to 30 days for tourism) | United Arab Emirates (up to 30 days) |
| Kazakhstan | Russia |
| The People's Republic of China (for group tours) | Serbia (till 30 days) |
| Cuba (up to 30 days) | Tajikistan |
| Kyrgyzstan | Turkey (up to 30 days) |
| Malaysia (up to 30 days) | Uzbekistan |
| Special Administrative Region of Macau S.A.R. of CHINA (up to 30 days) | Ukraine |
| Moldova | Montenegro (for up to 30 days if requested by a travel agency or an invitation) |
| Macedonia (in case of private invitations/telegrams, or invitations of health institutions for treatment, requests of the tourist company, or to visit the burials; up to 15 days with a valid multiple Schengen visa type "c") | Ecuador (for up to 30 days) |
| Mongolia (up to 90 days) | Foreigners up to 3 days for visiting the National Park "Bialowieza Forest" with the appropriate permissions |
| Micronesia (Federated States of) (up to 30 days) | Visa-free visit to the special tourist-and-recreational park "The Augustow Canal" and Grodno |
| Namibia (up to 90 days) | Up to 5 days for citizens of 80 countries arriving in Belarus through the checkpoint Minsk National Airport, with the exception of flights from the Russian Federation |
| Nicaragua (up to 90 days) | |
| Panama (up to 180 days) | |
| Peru (up to 183 days for tourism) | |
| Russia | |
| El Salvador (with permission for permanent or temporary residence in Russia, a valid visa of Canada or the United States or a Schengen visa) | |
| Samoa (up to 60 days having return tickets and hotel reservation/invitation) | |
| Seychelles (up to 90 days having a return ticket and financial guarantees) | |
| Saint Vincent and the Grenadines (up to 30 days) | |
| Serbia (till 30 days) | |
| Tajikistan | |
| Tunisia (up to 90 days) | |
| Turkey (up to 30 days) | |
| Uzbekistan | |
| Ukraine | |
| Montenegro (for up to 30 days having an invitation/tourist voucher) | |
| Ecuador (for up to 30 days) | |