Minsk Trip Planner: Top Things to See & Do This Year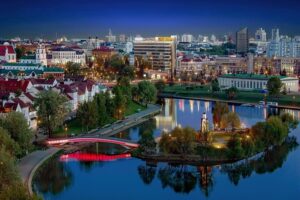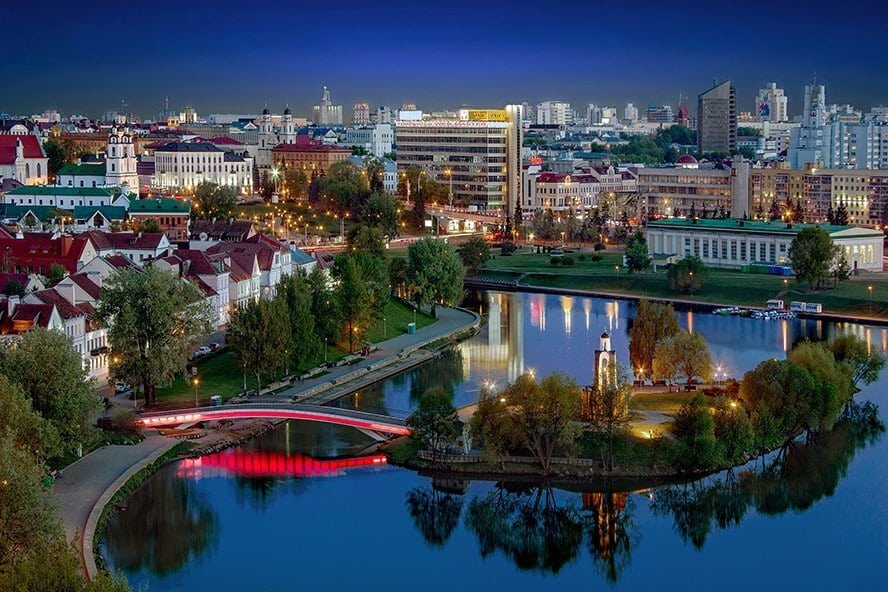 Minsk is the capital of Belarus and the largest city in the country.
During the time of its eventful history, Minsk, which is even older than Moscow, was completely burned down 18 times, and yet reborn again and again.
It has a very interesting history and an even more interesting present. Here are the reasons, why you should visit Minsk.
Interesting fact: it is not thoroughly established, but most likely the name of the city came from the Mena River, which was a tributary of the Ptich River.
In this article, we will tell you: where to go and what to see in Minsk, what sights and attractions, parks, and interesting places to visit.
Why You Should Visit Minsk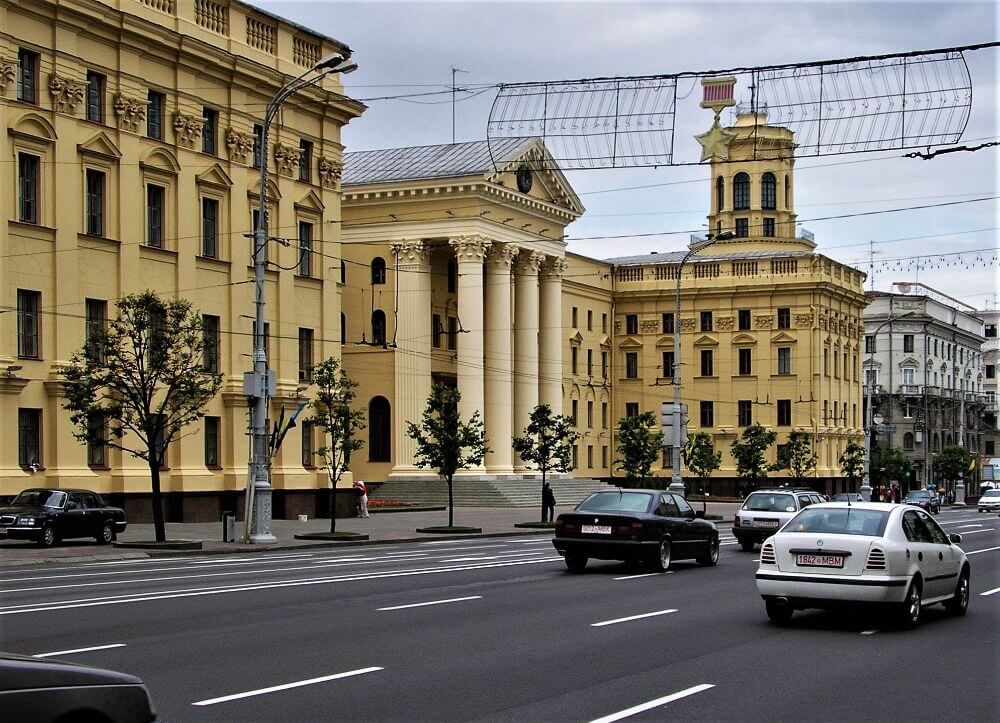 For lovers of architecture and history, Minsk is where you'll find an abundance of post-war Brutalist structures, a building style that pushes the artistic boundaries of poured concrete and mid-1900s future-forward aesthetics. These buildings are present in almost every city block.
At the same time, Minsk is also an undeniably modern city that's constantly evolving, a place where you'll find fantastic and unique experiences around almost every corner.

In fact, the city is rapidly becoming one of the top places in Europe for luxury entertainment. This is due to the growing casino industry in Europe, which has had to evolve to reach new customers in recent years. With the Malta gaming authority empowering the online casino industry across Europe, this has forced local brick-and-mortar gaming establishments to adapt in order to provide a heightened and unique experience for visitors.
And the cities of Belarus have stepped up to the challenge, as many of the casinos have paired up with luxury hotels to offer visitors a complete entertainment experience.
In short, Minsk is a thriving modern city where you'll find plenty of opportunities to create unique, new memories.
Alongside the luxury casinos and mid-1900s architecture, there are plenty of other things you can see and do in Minsk.
How to Get to Minsk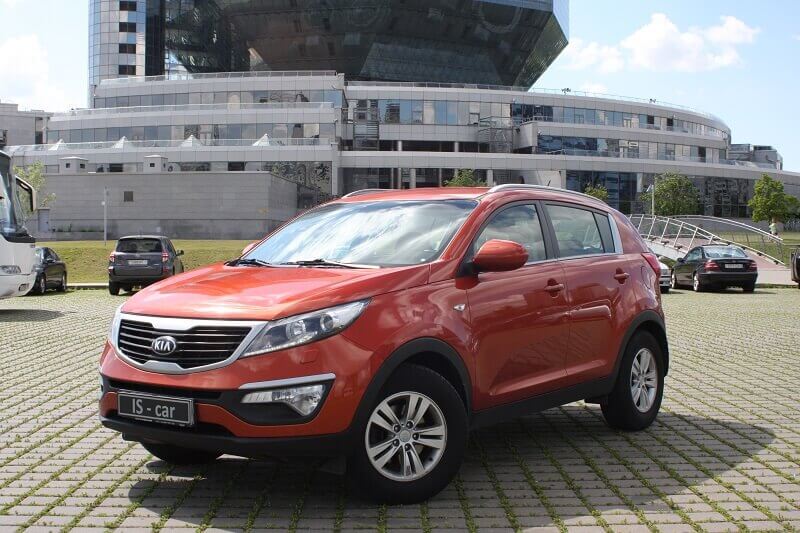 The main international airport in Belarus is the Minsk National Airport, which is about 40 km from the city center of Minsk itself.
From the Kastrychnitski District, where the airport is located, the bus or shuttle ride to the city center can take around 40 to 50 minutes.
Check out the official website of the Minsk National Airport for the updated schedules of the buses and shuttles that can take you to different locations in or near the city center.
While there are many private taxis outside the airport, you might end up paying more than you have to if you use these services.
So if you want to use a taxi or rent a car, approach the transfer desk at the airport to arrange for more private transportation or do it online in advance here or here.
Check our separate article about getting from the airport to Minsk
Getting Around Minsk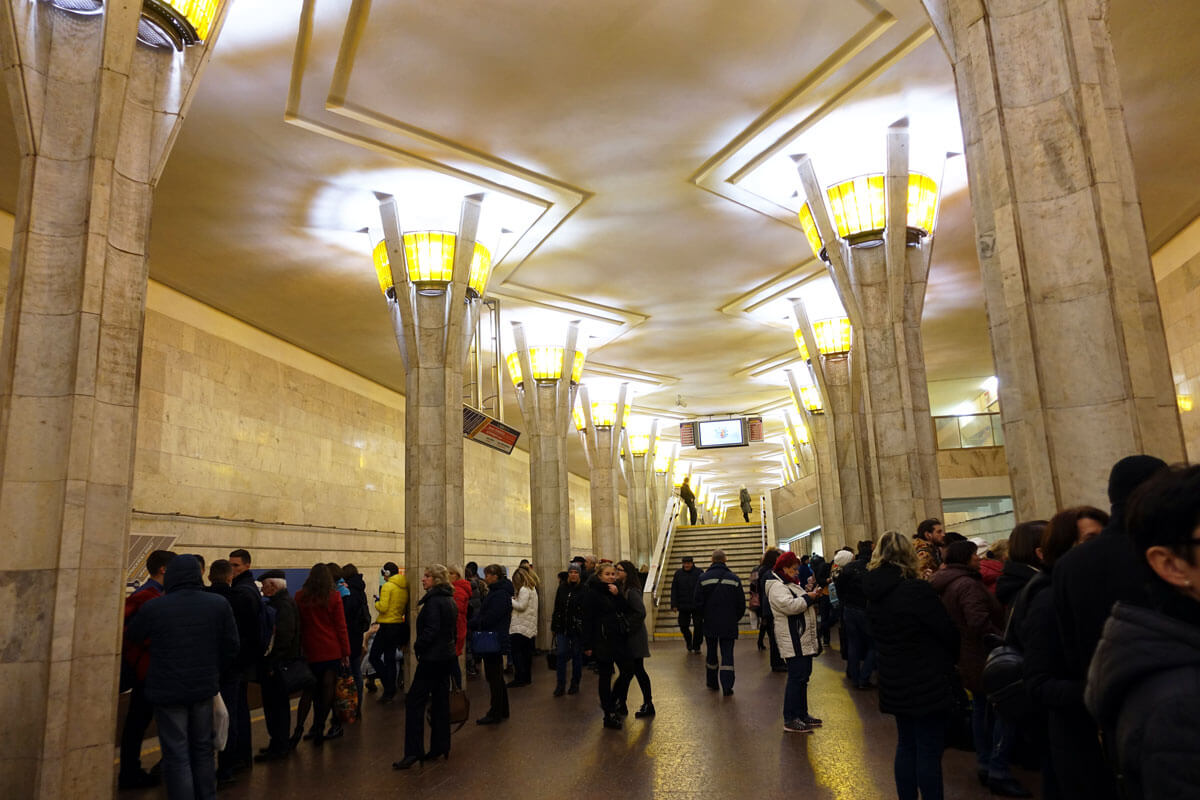 The public transport options in Minsk are quite well organized, comfortable, and relatively easy to navigate.
The Minsk Metro alone offers a wide variety of access points to the city, with railway lines forming a large 'X' that covers almost the entire city and many metro stations being located near different tourist attractions.
For the minimum price of BYN 0.65 (~$0.27), you can take the train from 5:30 in the morning all the way to 1 in the morning.
You can also opt to take any of the bus, tram, and trolleybus lines that cross the city on a daily basis, the routes for which can be found on Minsk's official public transport website or you can use a public transportation planning app like Moovit or Yandex.Transport. 
In terms of getting taxis, the best way would be to use one of the many ride-hailing apps available in Minsk today, such as NextApp, Yandex Taxi, and Uber which has partnered with Yandex to operate in the city.
You can also try the city's taxi service, for which you only need to dial 152 or 7788 on your phone.
Learn how to travel around Belarus to see the real country
Best Places to Stay in Minsk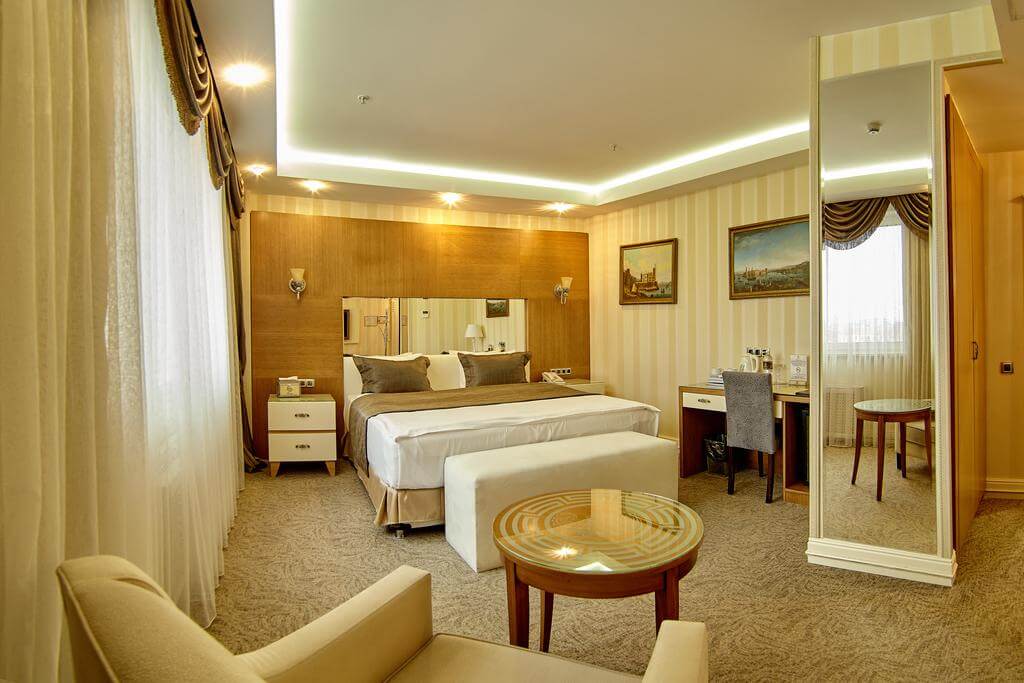 Whether you're looking for budget or luxury accommodations, there are plenty of options to choose from when you're in Minsk. 
In our Minsk hotels guide, you can find a detailed overview of the different places where travelers can stay in the city.
The Loft Hostel is the place to go if you're looking for a social vibe. Using its common area where you can mingle and cook food is a good way to get to know your fellow travelers. There are also plenty of reasonably priced Airbnb accommodation options that can provide a glimpse into the actual homes of Minsk's citizens.
If you're looking for something more formal and have the budget to boot, there are great mid-range options where rooms come with basic hotel services and more.
Hotel Sport Time for instance is a great place for catching local and European sports broadcasts, given that it has a sociable sports bar with Belarusian beers on tap.
Meanwhile, Hotel Yubileiny not only has three different bars, but also its own casino.
For those who are looking for a truly luxurious time, more extravagant places like the Renaissance Hotel and Hotel Europe not only have their own spas but are also serviced by multilingual staff, which can make your stay significantly easier.
The best way to compare accommodation options in Belarus is by using the Booking.com website.
You can simply enter 'Minsk' and your dates in the field below to see the best options for you:
Prices in Minsk
Generally speaking, the prices for goods and services in the city are relatively lower compared to the rest of Europe.
At the same time, don't be surprised if high-end restaurants, retail shops, and other establishments in or near the city center are twice as expensive as those in the city's residential areas.
Check our guide to tourist prices in Minsk
So while the average price for meals is about BYN 15, prepare to spend upwards of BYN 40 to BYN 50 for your daily food budget, depending on how much you prefer restaurants over fast or street food.
Top Things to Do in Minsk
Here is a list of some of the best things to do and places to visit in Minsk.
Of course, there are many more places worth mentioning.
Check out our other articles about Minsk to learn more about the city before you visit it!
Minsk Old Town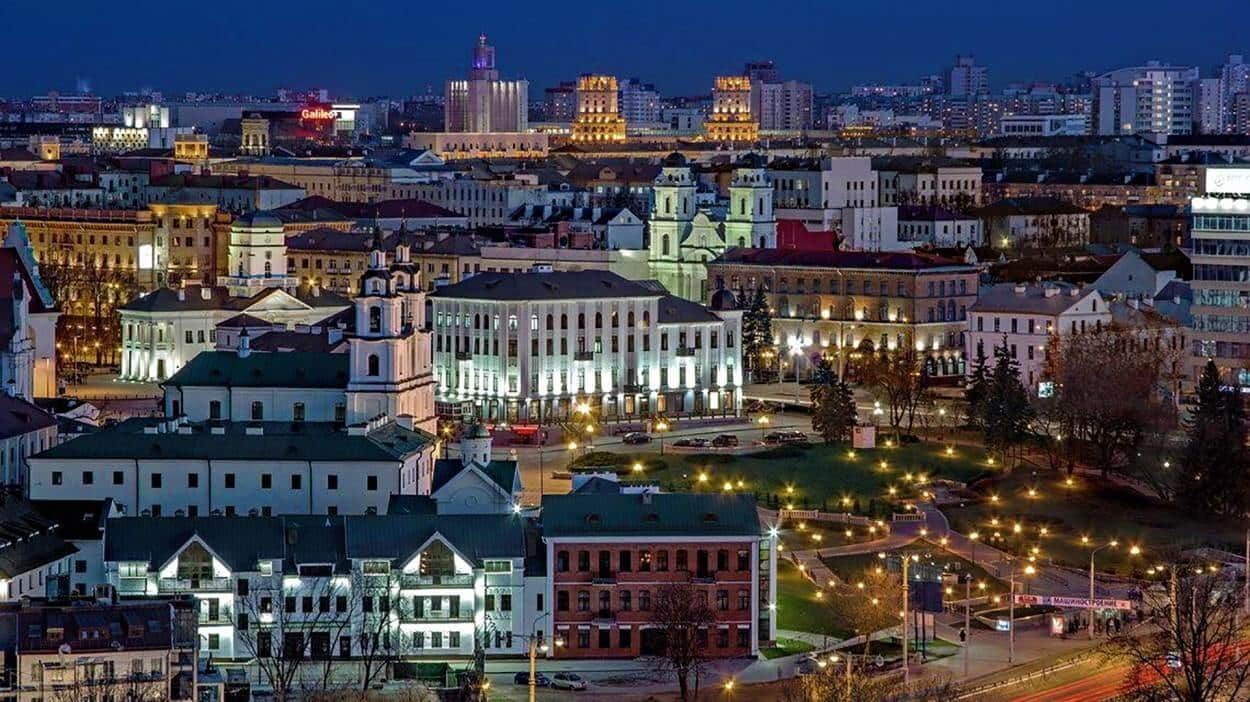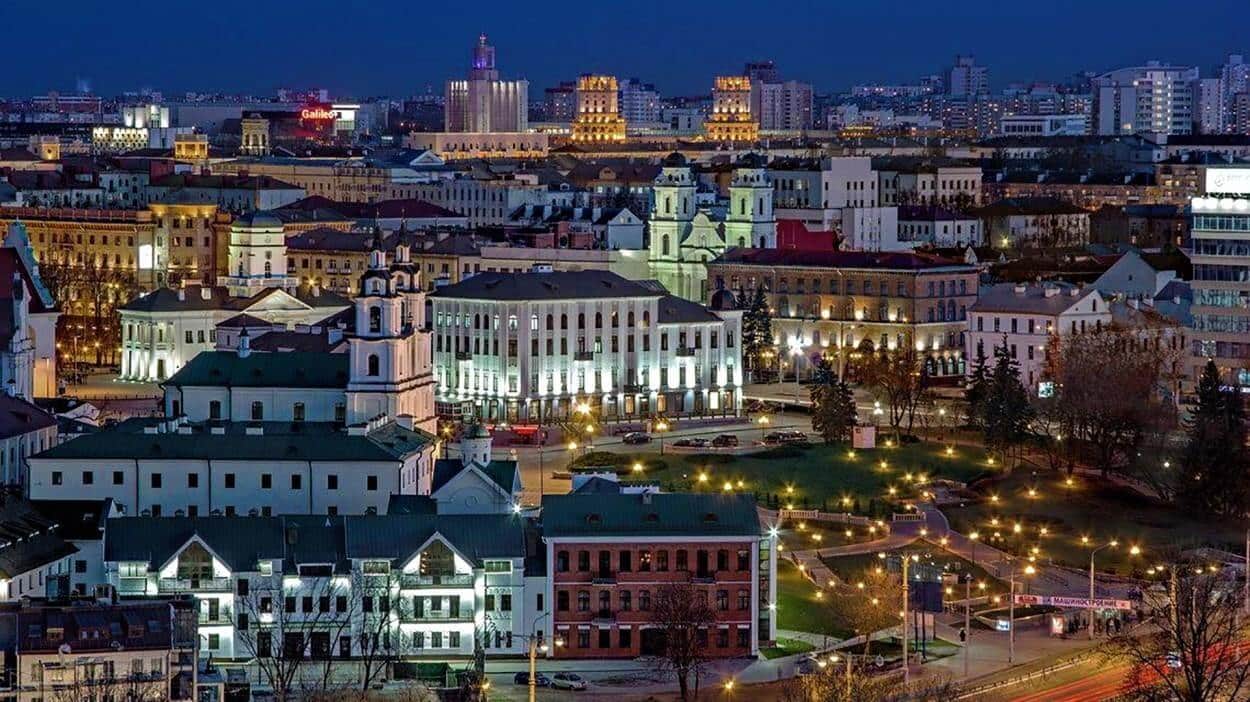 First of all, you should visit the heart of Minsk – the Old Town, walk along its streets, and drink coffee in authentic restaurants of the Upper Town. There is also the country's main orthodox cathedral and the City Hall on Liberty Square.
In summer, many live music concerts like "Evenings at the Town Hall" are held here. There are many bars, clubs, cafes, and restaurants in the Upper Town to visit at night. Here, you can find entertainment for every taste.
Trinity Suburb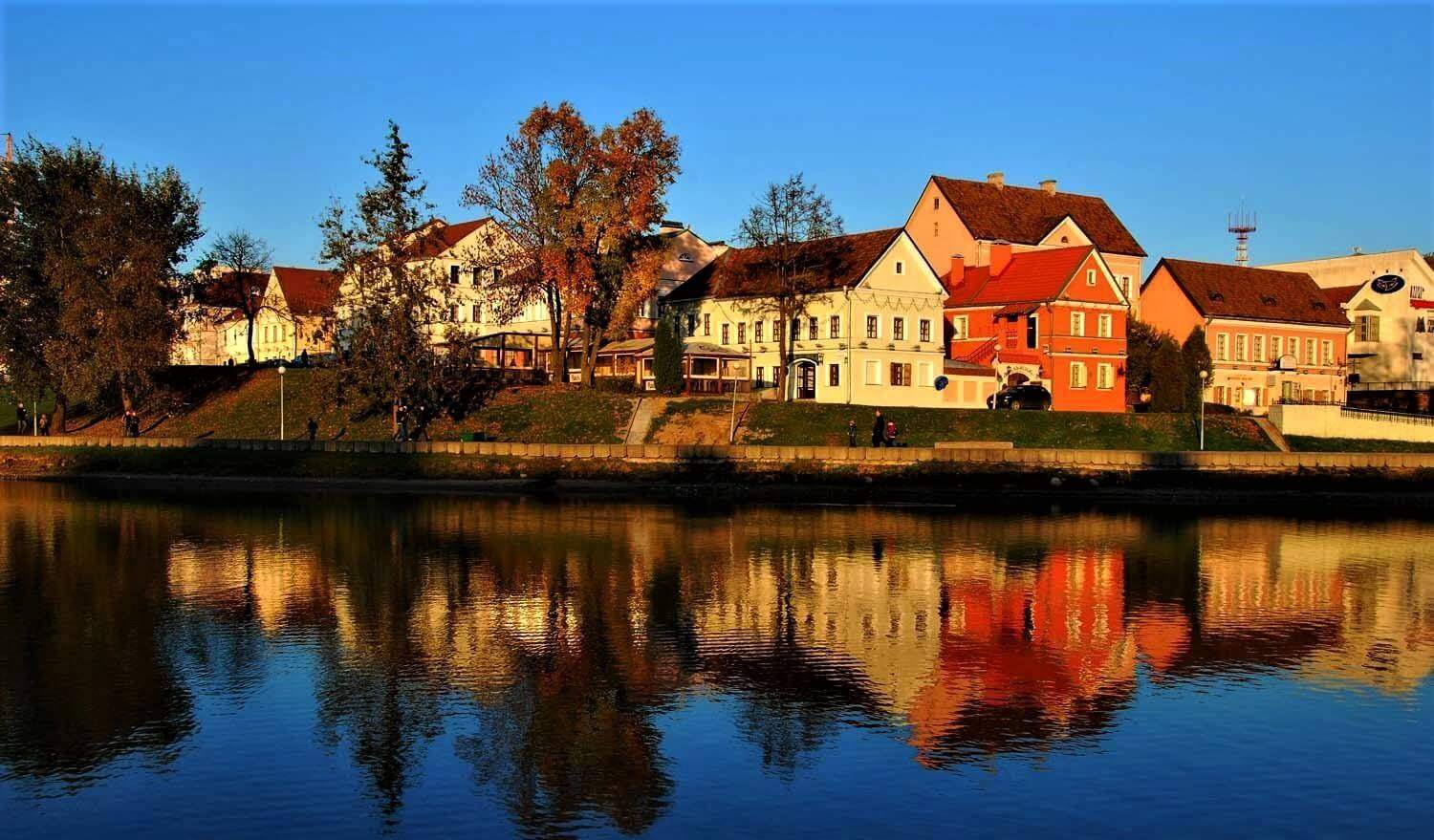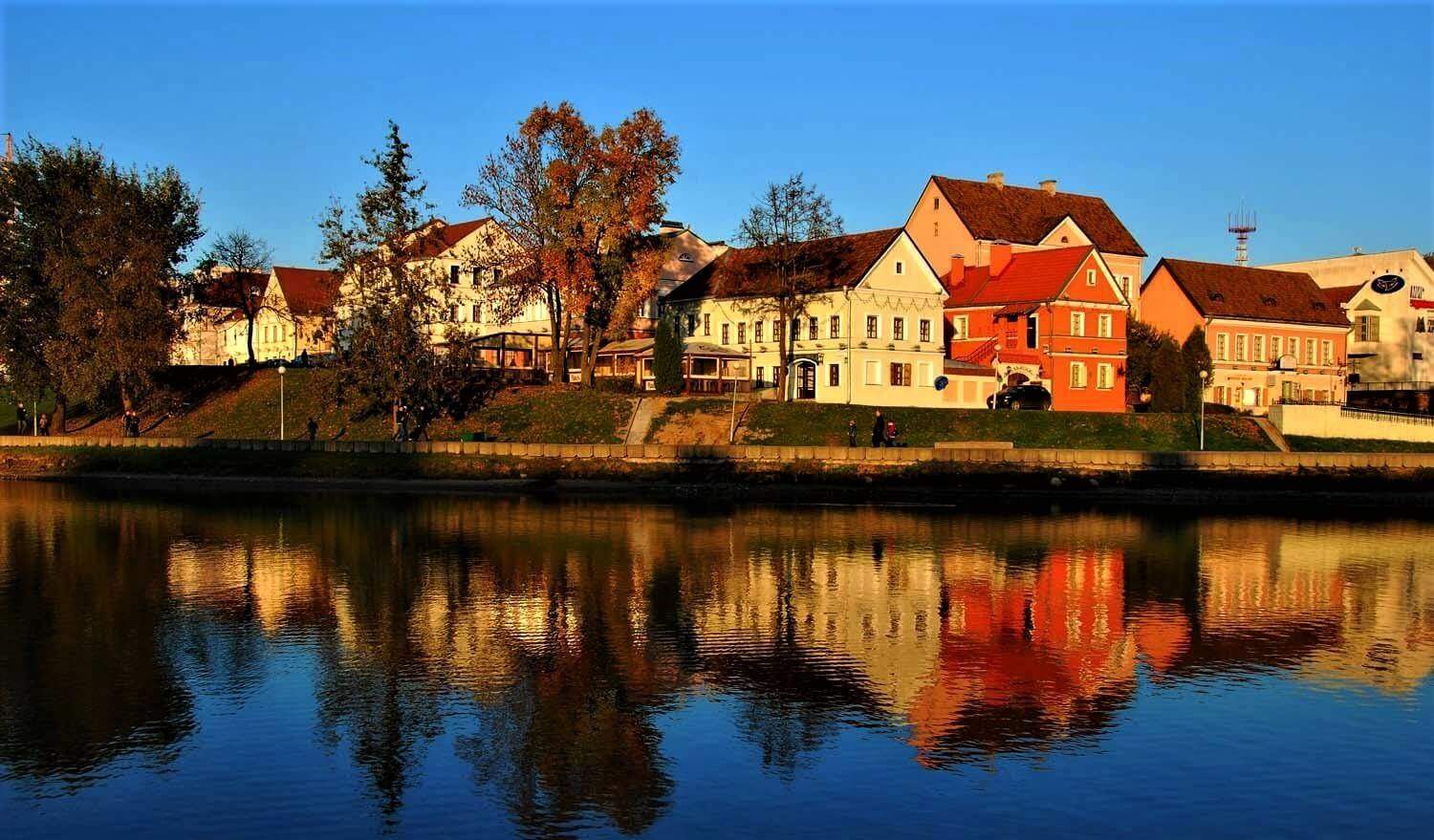 Most of the valuable architectural sights of Minsk are located in the Trinity Suburb. Now, it is a part of the old town complex and is in a state of gradual restoration.
Tourists can visit Minsk museums, exhibitions, and various small restaurants with open terraces on the banks of the Svisloch river. It is also a good place to buy some original souvenirs.
National Library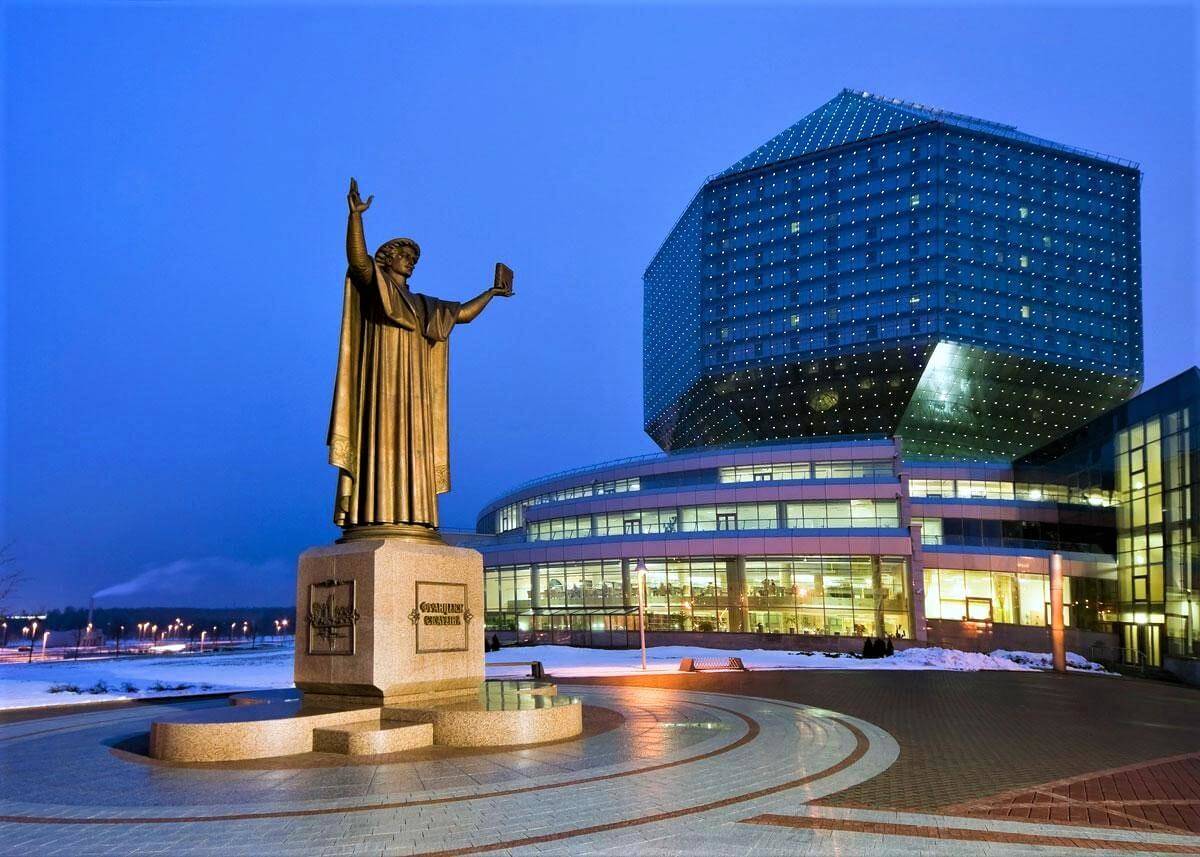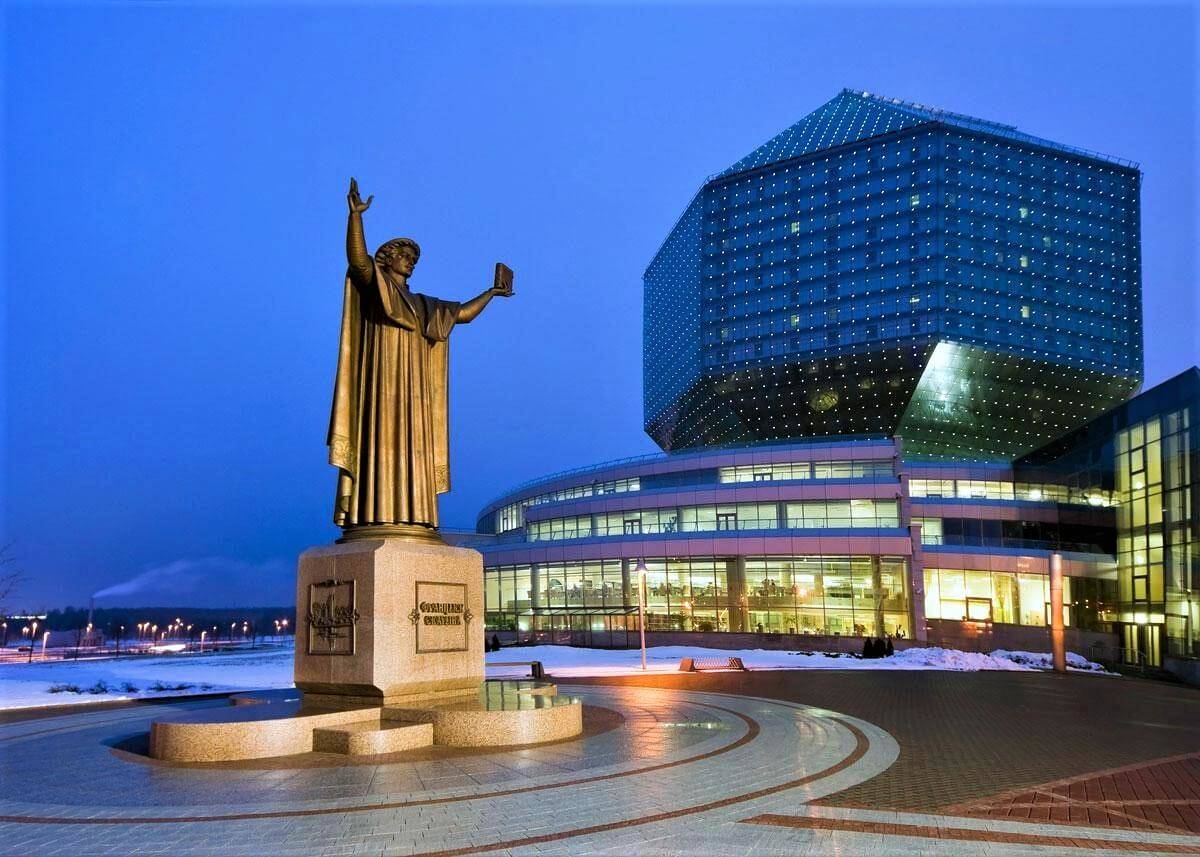 Perhaps, the most famous landmark in Minsk, and at the same time the largest information and cultural center of Belarus, is the National Library. Its dimensions are impressive. The diameter at the bottom is 180 meters, weight is 115 thousand tons.
There are two dozen reading rooms in it, where up to two thousand readers can fit at the same time. The archives of the National Library store over 8 million books. Outwardly, the library resembles a kind of glass diamond, which is also a huge advertising screen.
In the library, you can climb to the observation deck, which is open in any weather, drink coffee in a cafe and watch the city through panoramic windows from a height. Visit Minsk at least to see it.
Interesting fact: Minsk celebrates its city day on the second Saturday of September.
Botanical Garden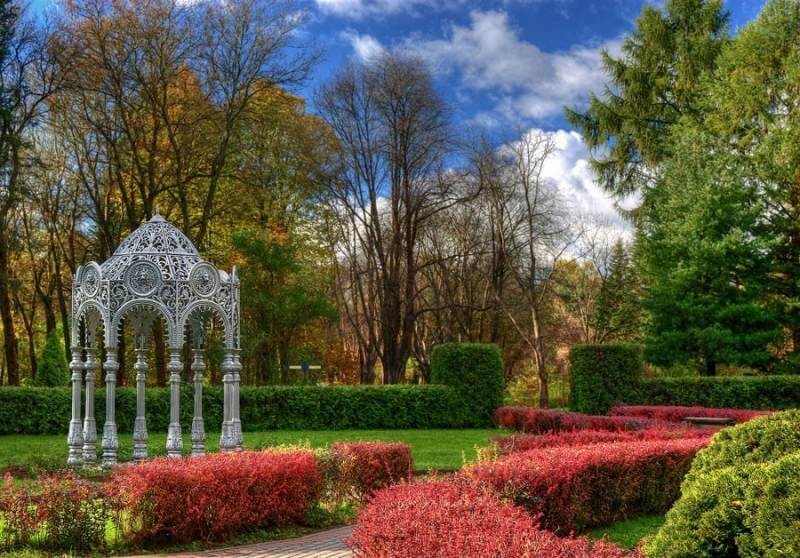 Address: Surganova St. 2B
Opening hours: 10:00-17:00
Travelers who can not live without nature and flowers will be delighted with Minsk Botanical Garden, which is the third largest botanical garden in the world after the ones in London and Madrid (total area – 96 hectares).
There are nine alleys in it, each of which is planted with various trees. In addition, there are regular carnivals of roses, as well as holidays in honor of rhododendrons and peonies flowering.
Over 9,000 species of different botanical samples can be found spread across the 530,000 square meters of the National Academy of Sciences' Central Botanical Garden.
Known worldwide for its massive collection of coniferous plants, along with perennials from Pamir, Caucasia, Australia, Southern Europe, and America, the Botanical Gardens are a must-see for anyone with a love for nature.
Fountains of Minsk
Minsk is also interesting for its fountains. The city has more than a hundred of them. The oldest one was built in 1873.
It still works and is called "Boy with a Swan". You can view the fountain in Alexander Park, in the heart of the city.
Interesting fact: England is often called the Foggy Albion, but not everyone knows that there are more foggy days in Minsk than in London (on average 67 days per year against 45 in London), thereby attracting fans of a mysterious, noir atmosphere.
Victory Square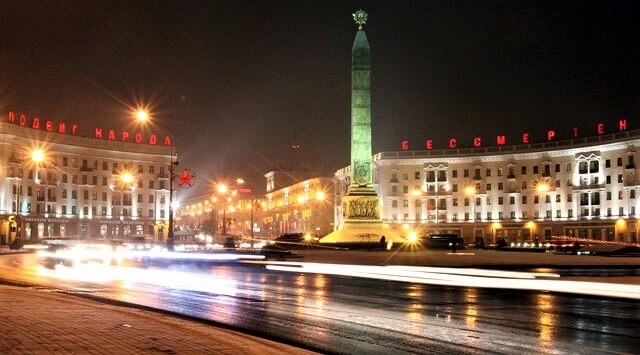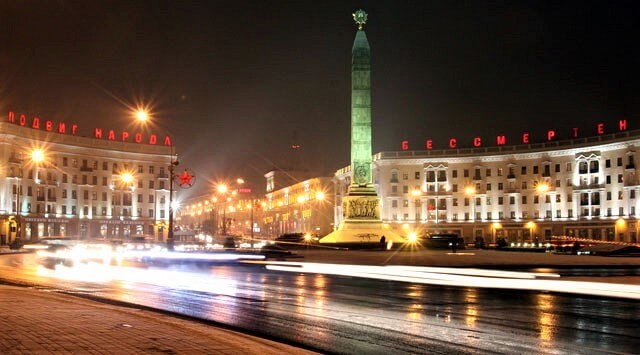 Among the sights of Minsk, the Victory monument stands out in its size rising to the sky at 36 meters height, and the diameter of the star at the top is 6 by 6 meters.
You can see it on Independence Avenue, in the center of Minsk, an avenue similar to the ones you can see in Kiev and Moscow. Here is also the eternal fire that burns in any weather, and on holidays there is a guard of honor near it.
On Independence Square, next to the Government House, there is the Peter and Paul Cathedral, also called the Red Church, the main Catholic cathedral of Belarus.
Loshitsa Park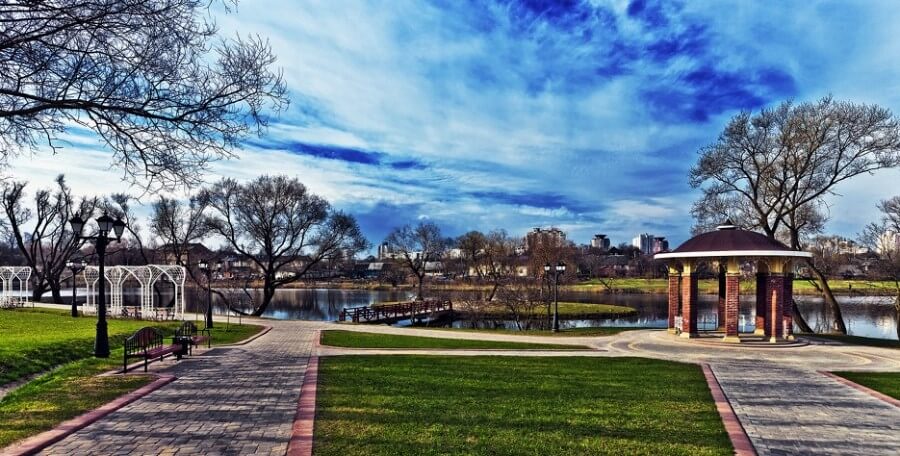 Romantics can enjoy the other side of the city. They can visit Minsk's natural sights. For example, the park named after Yanka Kupala, where the sculptural group "Wreath" is located, will not leave anyone indifferent.
Also worth visiting is the famous Loshitsa park, in the depths of which there are ancient apple orchards and the Prushinsky manor. Also here you can find the remains of a mill, where once a young lady hanged herself because of unhappy love.
Interesting fact: in the center of the capital is the only prison in Europe, the Pischalovsky Castle, where the practice of shooting criminals is still applied. People also call the prison Volodarka.
Lovers of science are strongly encouraged to visit the M. Tank University. It houses the famous Foucault pendulum, only about 20 pieces of which can be found in the world.
Independence Avenue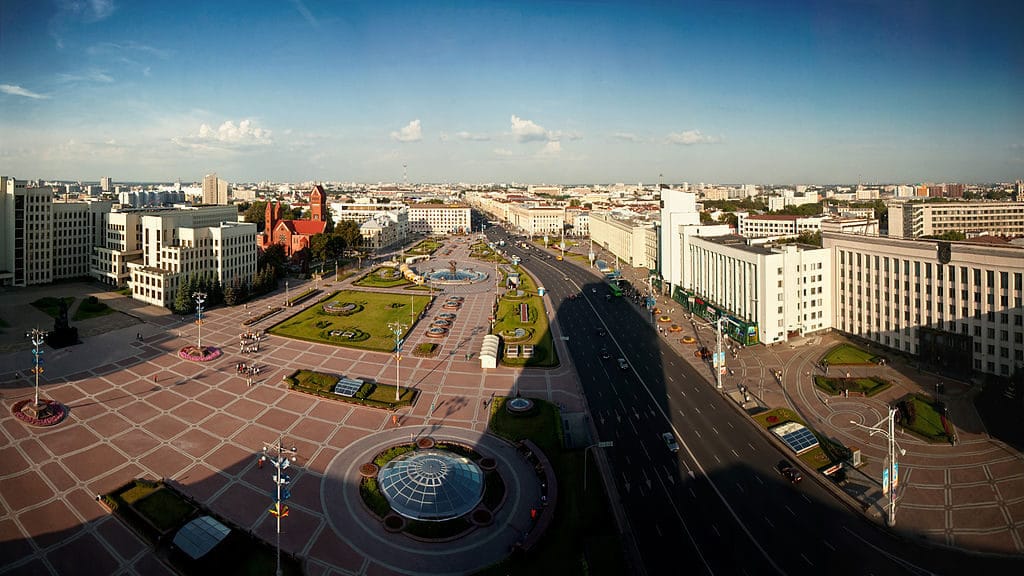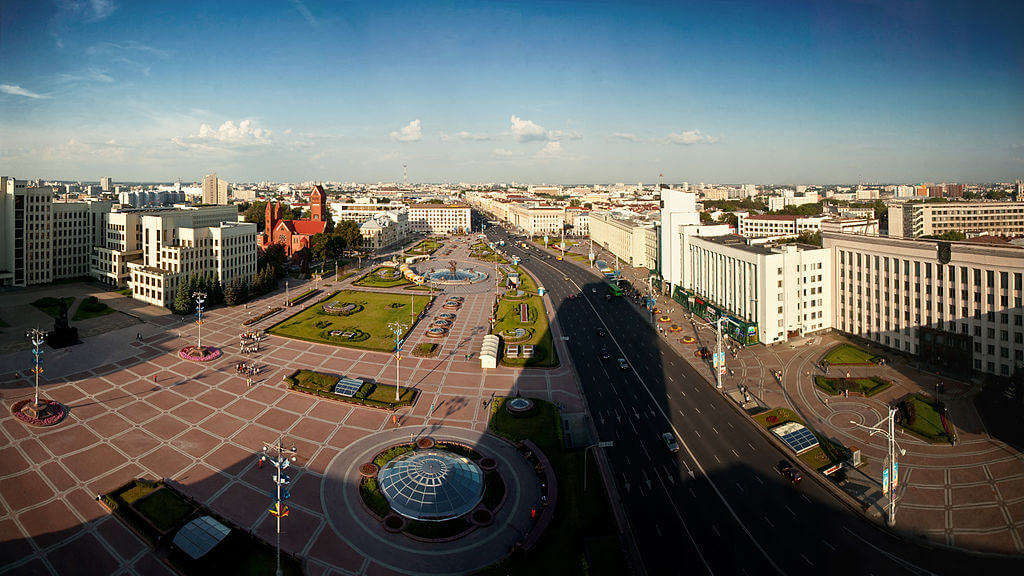 This 15-kilometer-long avenue is one of the longest thoroughfares in all of Europe and passes from the center of the city to the northeast section.
The architectural ensemble that runs along this road was built in Stalin's Empire Style during the '50s and features balustrades, flowers, and other features that are best viewed during the night when it's all illuminated by outdoor lighting. 
Independence Avenue also passes through the city's four biggest squares, which are Independence Square, Yakub Kolas Square, Victory Square, and October Square.
Stolitsa Underground Mall
Address: Praspiekt Niezaliežnasci (Independence Avenue) 3-2
Opening hours: 10:00-22:00
Underneath Independence Square, you'll find one of the most popular yet earliest shopping destinations in all of Minsk. Over 100 shops, retail outlets, cafes, restaurants, and other establishments await in this 75,000-square-meter underground mall.
While there are plenty of other malls and markets around the city, there's arguably no better place to buy souvenirs inside of Minsk than in Stolitsa.
Grand Opera and Ballet Theatre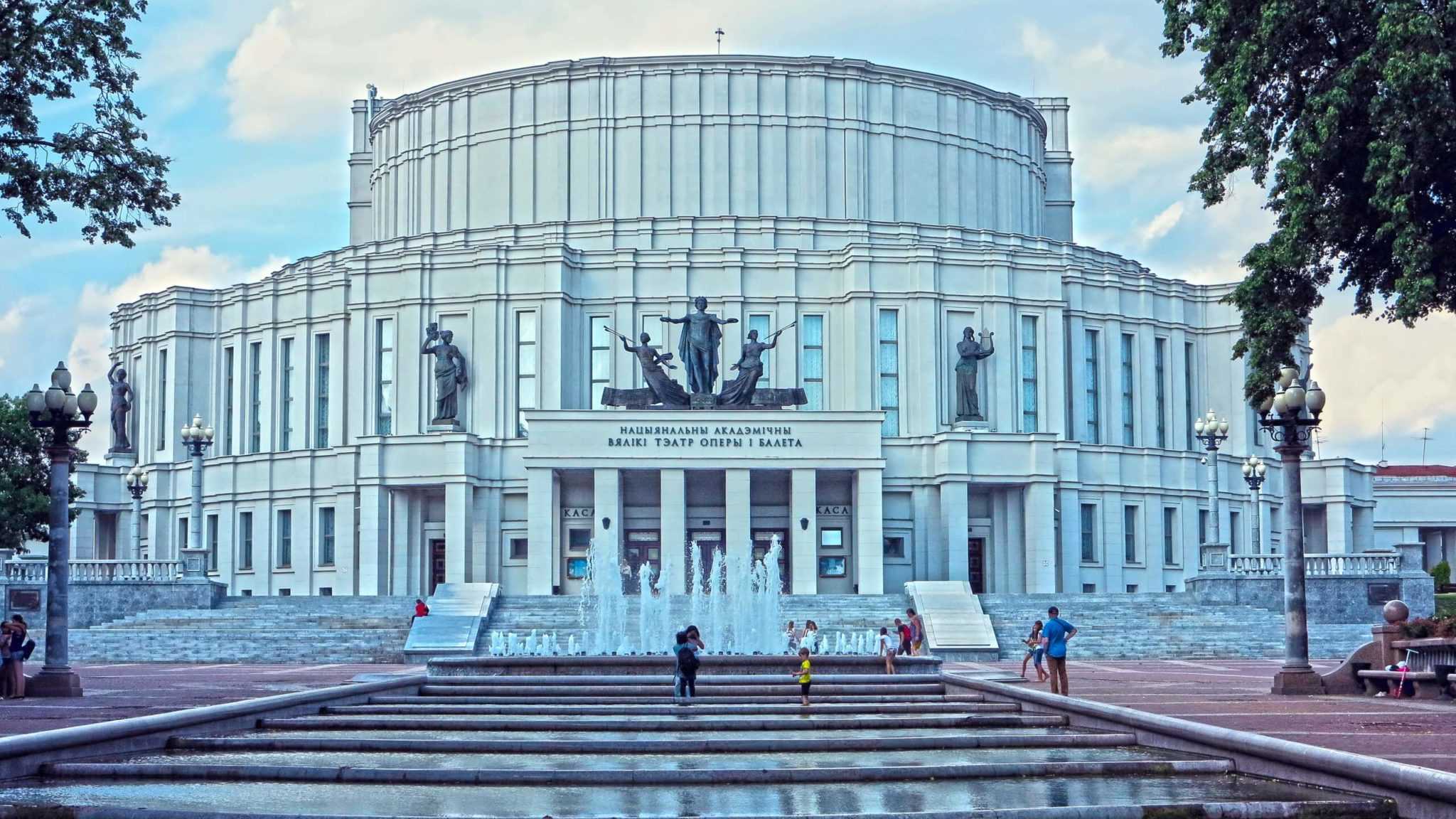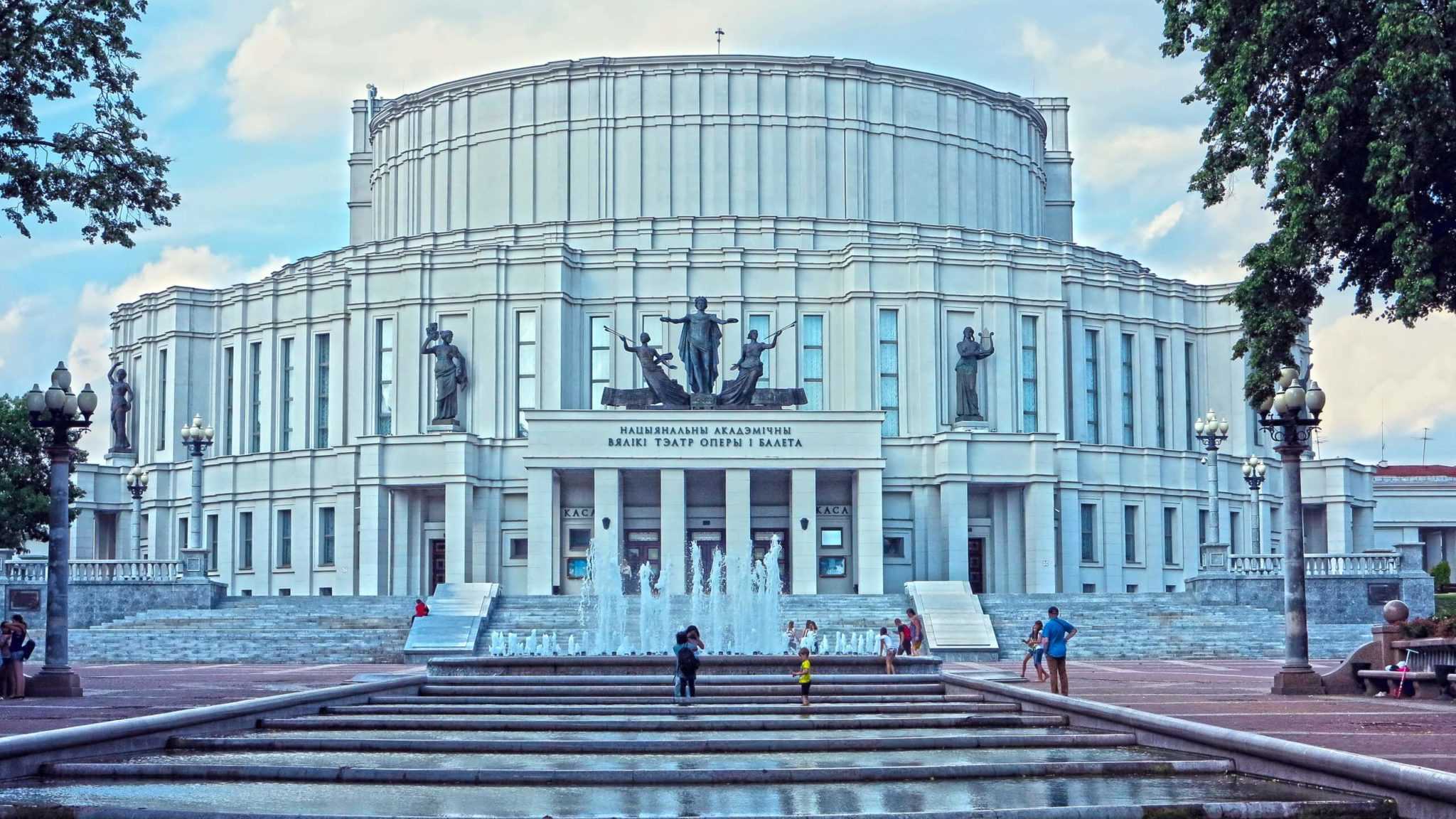 Address: Plošča Paryžskaj Kamuny 1 (Paris Commune Square 1)
The Opera and Ballet Theatre in Minsk can be found in the Trinity Hill district of the city of Minsk and has been an important cultural center since it was founded in 1933.
Although the national theater's current operating hours are uncertain, it still plans to hold a variety of ballet, opera, and other theatrical performances later in the year, including classic shows such as Romeo and Juliet, Swan Lake, and the theatrical adaptation of Leo Tolstoy's Anna Karenina.
Tickets range from just BYN 13 (~$5,3) for regular seats to around BYN 60 (~$25) for deluxe seats inside the theater.
Gorky Park (Central Park)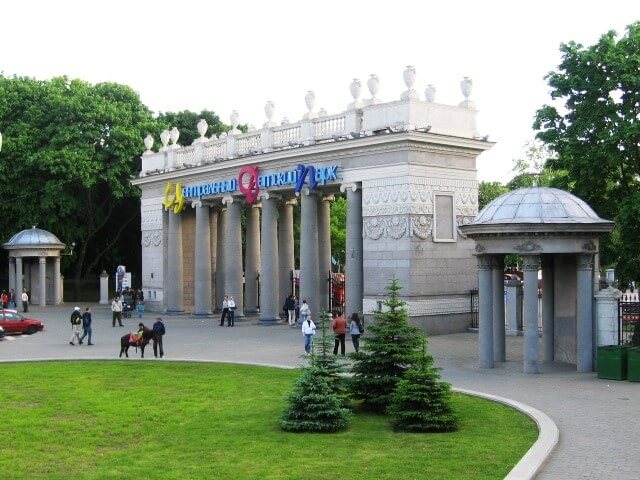 Address: Frunze St. 2
Opening hours: 11:00-17:00
Originally called Governor's Garden when it was first established in 1805, Gorky Park is the most centrally located of Minsk's various clean and green public spaces.
The arched entrance gate to the park from the Victory Square side is a sight to behold and has become Gorky Park's trademark. Its more than 28 hectares are home to 60 different species of trees, an amusement park, and The tallest Ferris wheel in all of Belarus. A nice place to relax and get a good view of the city lights at night.
The Red Yard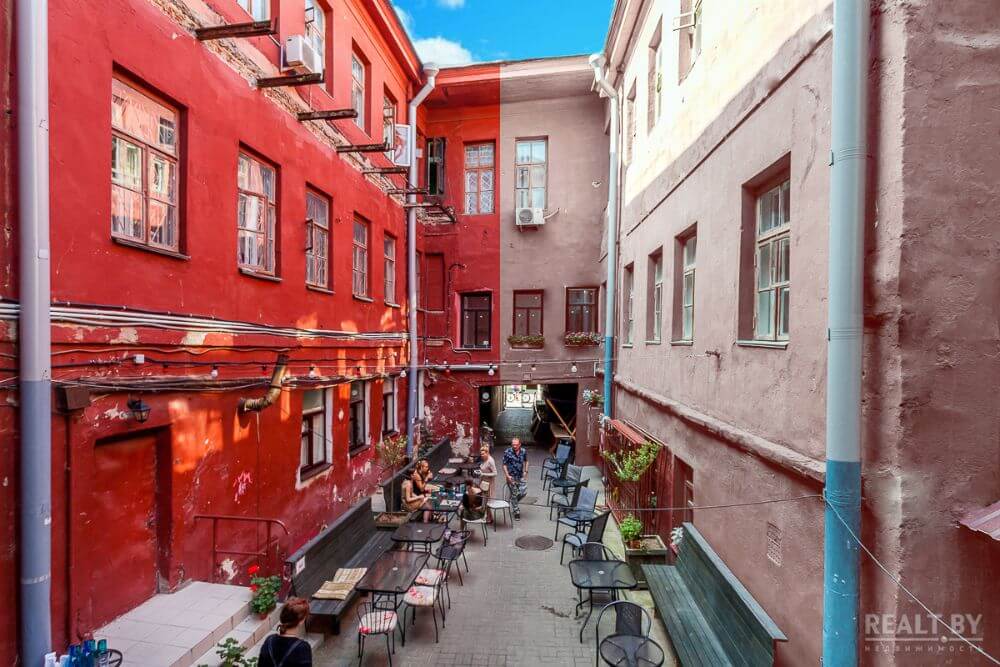 Address: Revaliucyjnaja St. 7
Opening hours: open 24 hours
Although it can't yet be considered an official Minsk landmark, The Red Yard is a well-known venue among the city's art and music lovers. Parties live musical performances, academic cultural lectures, and art exhibits are just some of the events you can expect to see here.
Check out the speakeasy Embargo Bar inside the compound for a taste of sophisticated Belarusian mixology in a cozy, art-filled location.
Oktyabrskaya Street (October Street)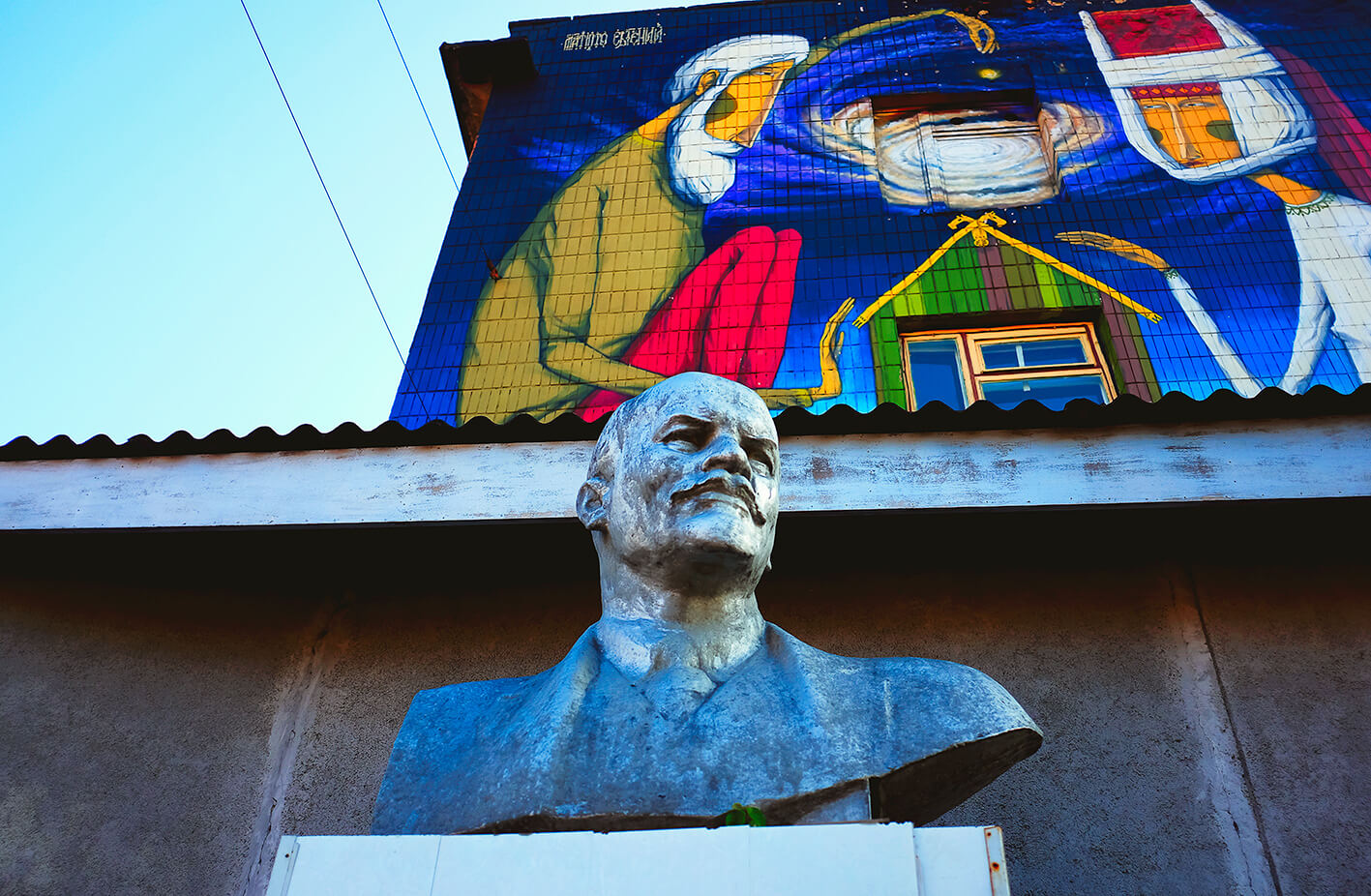 Located on the outskirts of Minsk, Oktyabrskaya Street is a former industrial district with abandoned factories that has been transformed into the city's largest permanent mural exhibit.
Trendy bars and cafés can be found everywhere in the area as well. It's another fantastic place to meet and greet Minsk's creative and rebellious artists.
Solidarity at the House of Fashion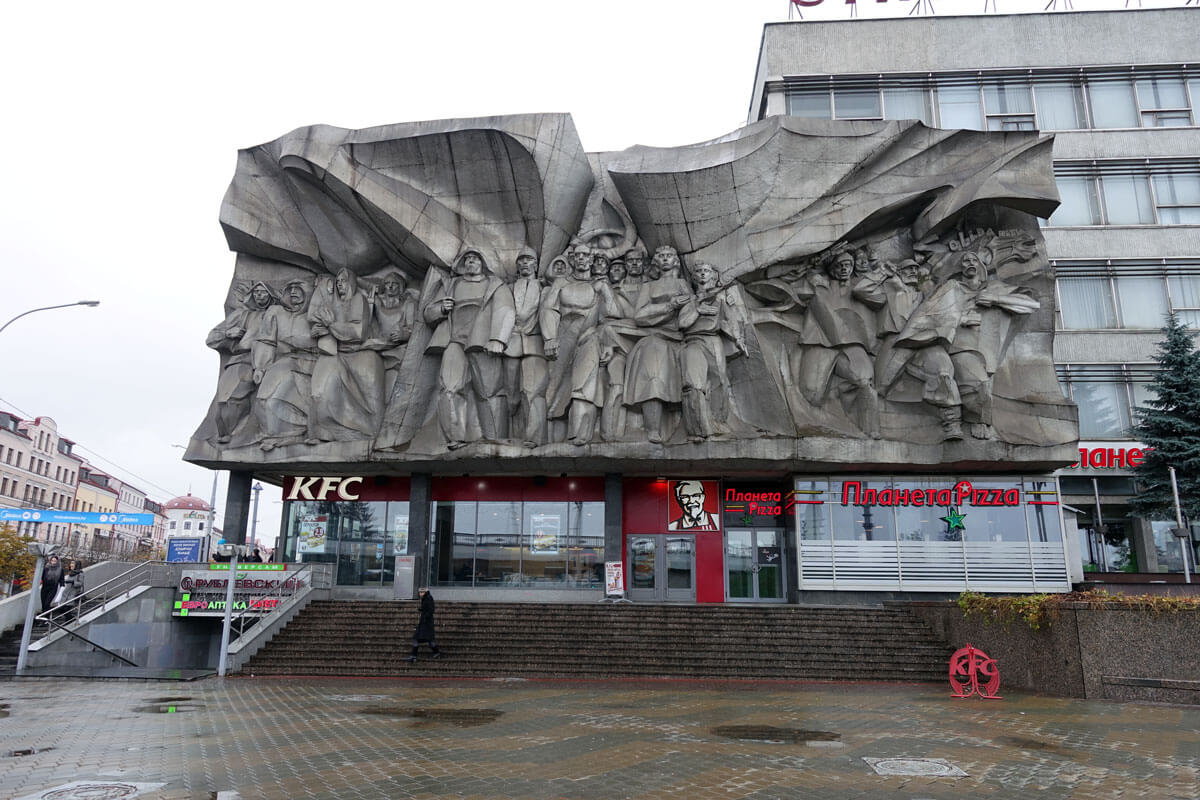 Address: Nemiga Street

Located at the House of Fashion which itself is a historic structure, "Solidarity" is a gigantic relief sculpture by Anatol' Yafimovich Arcimovich.
It's easily one of the most impressive extant monuments from Minsk's Soviet Union Era. And it represents the proletariat struggle that made the Russian revolution possible.
Museums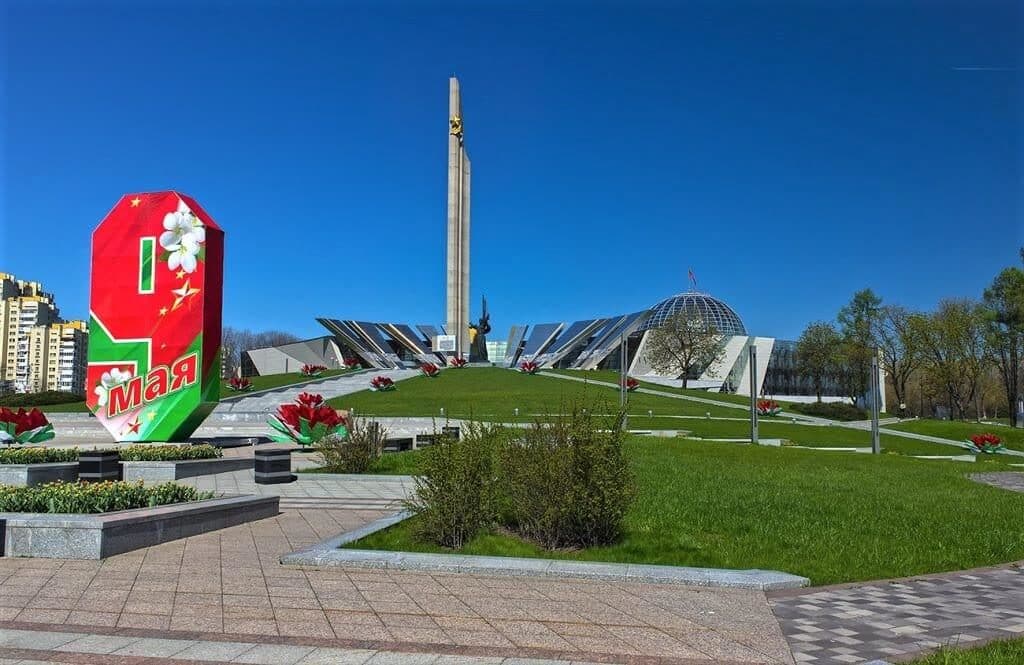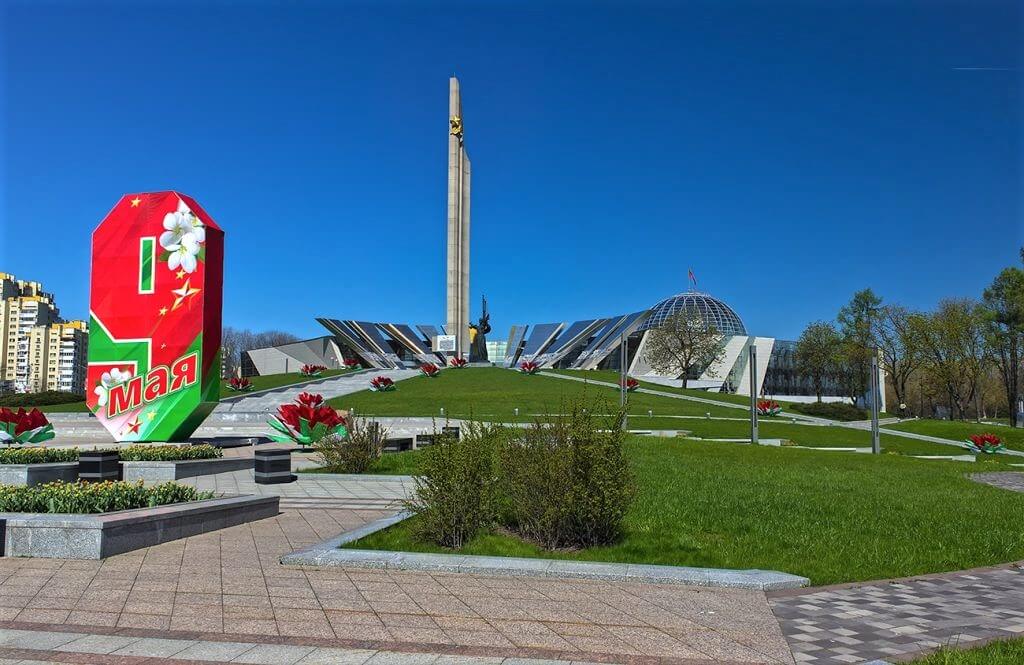 Traditional Belarusian culture is alive and well in Minsk's many different museums.
The Museum of Alivaria Beer lets you take a trip through the operations of brewing company Alivaria, an educational tour that ends with sampling the many local varieties of beer.
Meanwhile, the National Art Museum of the Republic of Belarus is the place to go for a more traditional and historic museum experience.
And if you're looking for something more unique, Belarus Mini is a large exhibit of miniaturized Belarusian landmarks, a good way to take a country-wide tour in the course of an afternoon.
Check our full Minsk museum guide for more
Activities to Try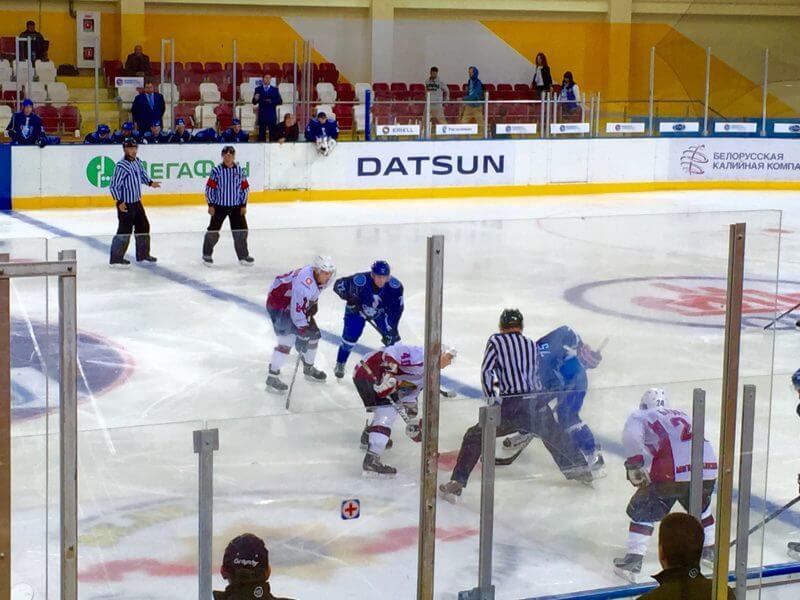 You might be surprised at the activities you can try out in Minsk. For instance, the longest bike path in Minsk is 27 kilometers long, a near-continuous northwest-to-southeast path that will take you through the entire city via the route of the Śvisłač river.
You can also sign up for a Soviet or communist tour offered by many of Minsk's local tour companies for an up close and personal experience with the city's Soviet era.
You might also be surprised to know that apart from football which is popular across Europe, Minsk is also home to a huge hockey fanbase.
The local team is called Hockey Club Dinamo Minsk, and they play in the Continental Hockey League. Their fans are often more than willing to show you a thing or two on the ice rink.
Learn about the most popular sports in Belarus
Best Restaurants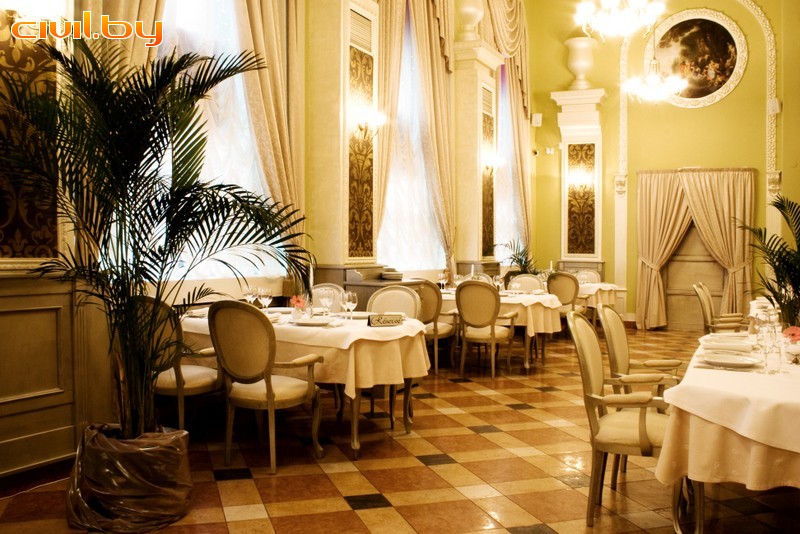 Not surprisingly, Minsk is also home to more than several of the best restaurants in Europe. Complete with medieval stone walls and stained glass windows, Kamyanitsa is the place to go if you're looking to sample the national culinary delights of Belarus.
For something that's less traditional, Chekhov which is a cafe-living-room concept restaurant offers modern fare with the added amenities of billiards tables, chess, a piano, and a highly sociable atmosphere.
And if you're in need of the best cup of coffee you can find in the city, look no further than CoffeeBerry.
Best Bars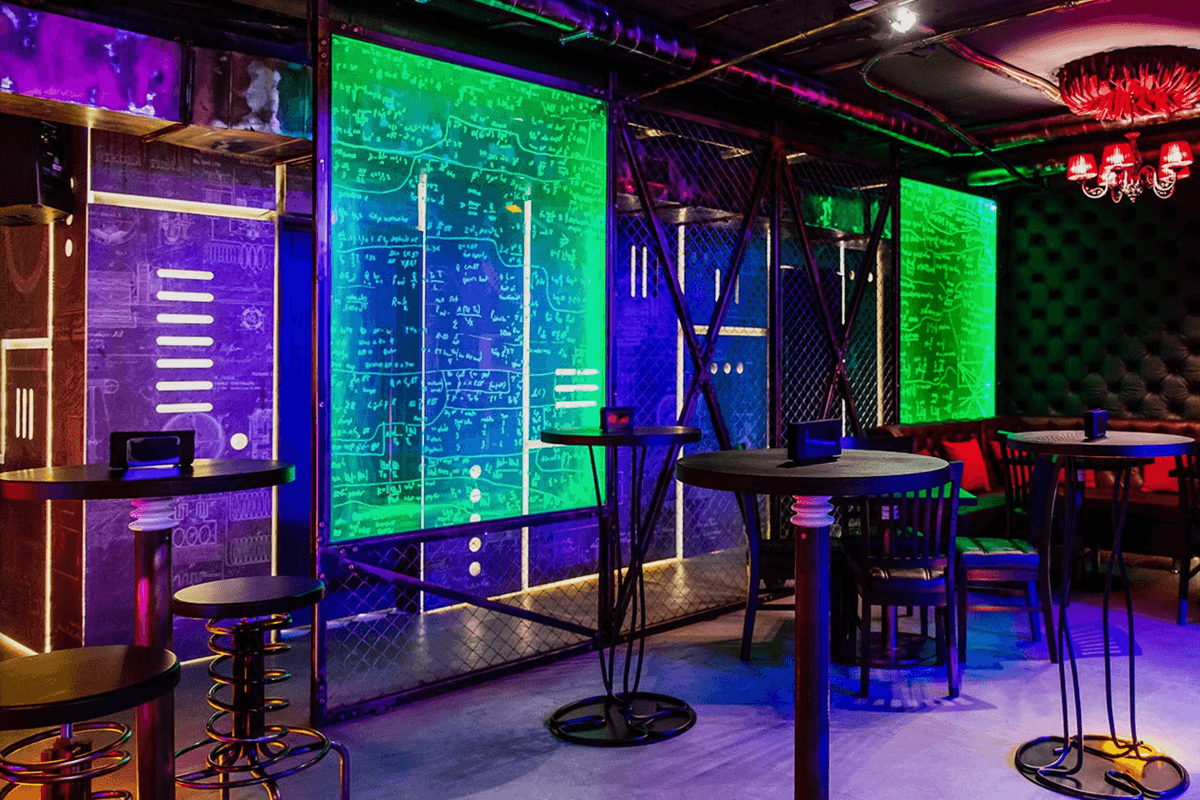 Much like any modern metropolis in Europe, Minsk's nightlife is very much alive and kicking.
A unique place called SAD is a perpetually warm and cozy spot no matter what the season is outside, where dance parties are powered by vinyl-only DJs and a highly selective wine selection.
For beer aficionados, Staromestny Pivovar is a brewing institution where you can sample Bavarian dark wheat ale, ginger beer, ruby beer, and many other local and European varieties.
If you're a British visitor looking for a touch of home, Pinta is a traditional English pub that offers a wide range of cocktails.
Tip: As a general tip, if you're looking for a good bar in Minsk, check the Zybitskaya, Revaliutsyjnaya streets, and surrounding areas.
Things to do near Minsk
Minsk is not the only interesting place to visit in Belarus. You don't need to go far to see more of the popular tourist attractions like the following ones:
Stalin Line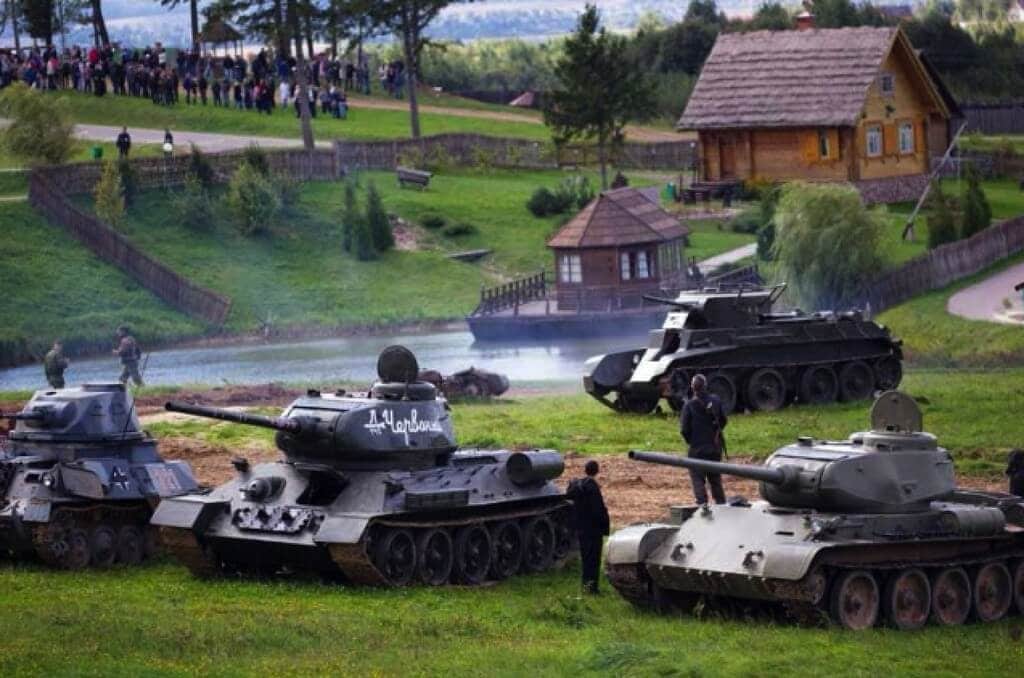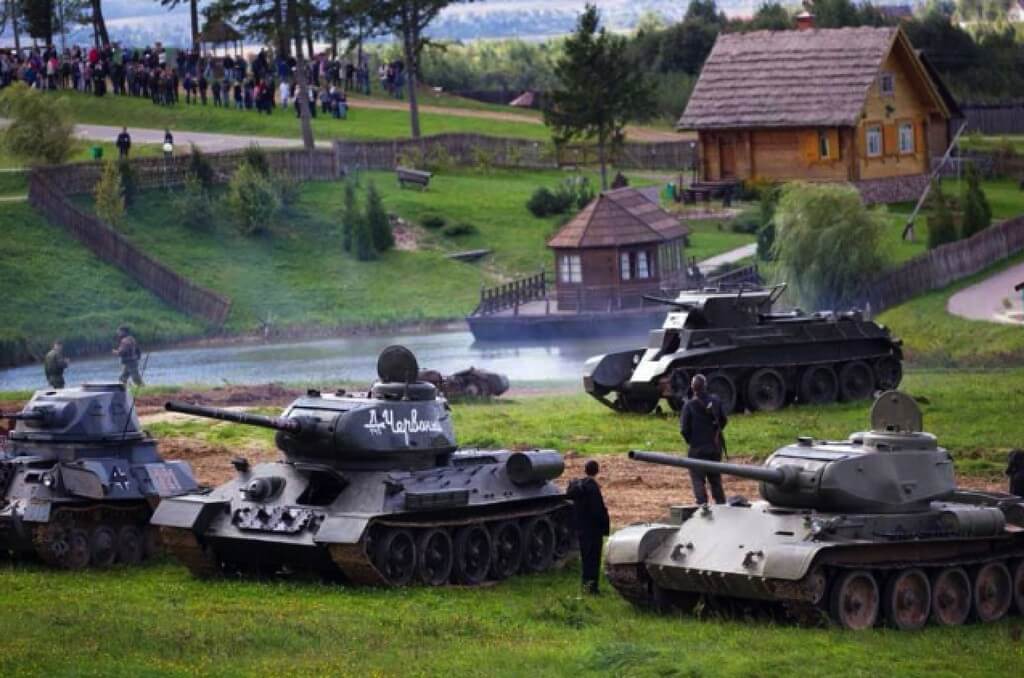 Address: Highway Minsk-Molodechno P28, Minsk District
Opening hours: 10:00-18:00
Perhaps the most grandiose of the many war-era defense museums near Minsk, the Stalin Line Historical and Cultural Complex is named after a network of heavy fortifications found in the former western border of the now-defunct Soviet Union.
Many of the bunkers, armaments, and battle dugouts can still be found here, left extant as a reminder of Belarus and Russia's turbulent past.
Strochitsy (Ozertso)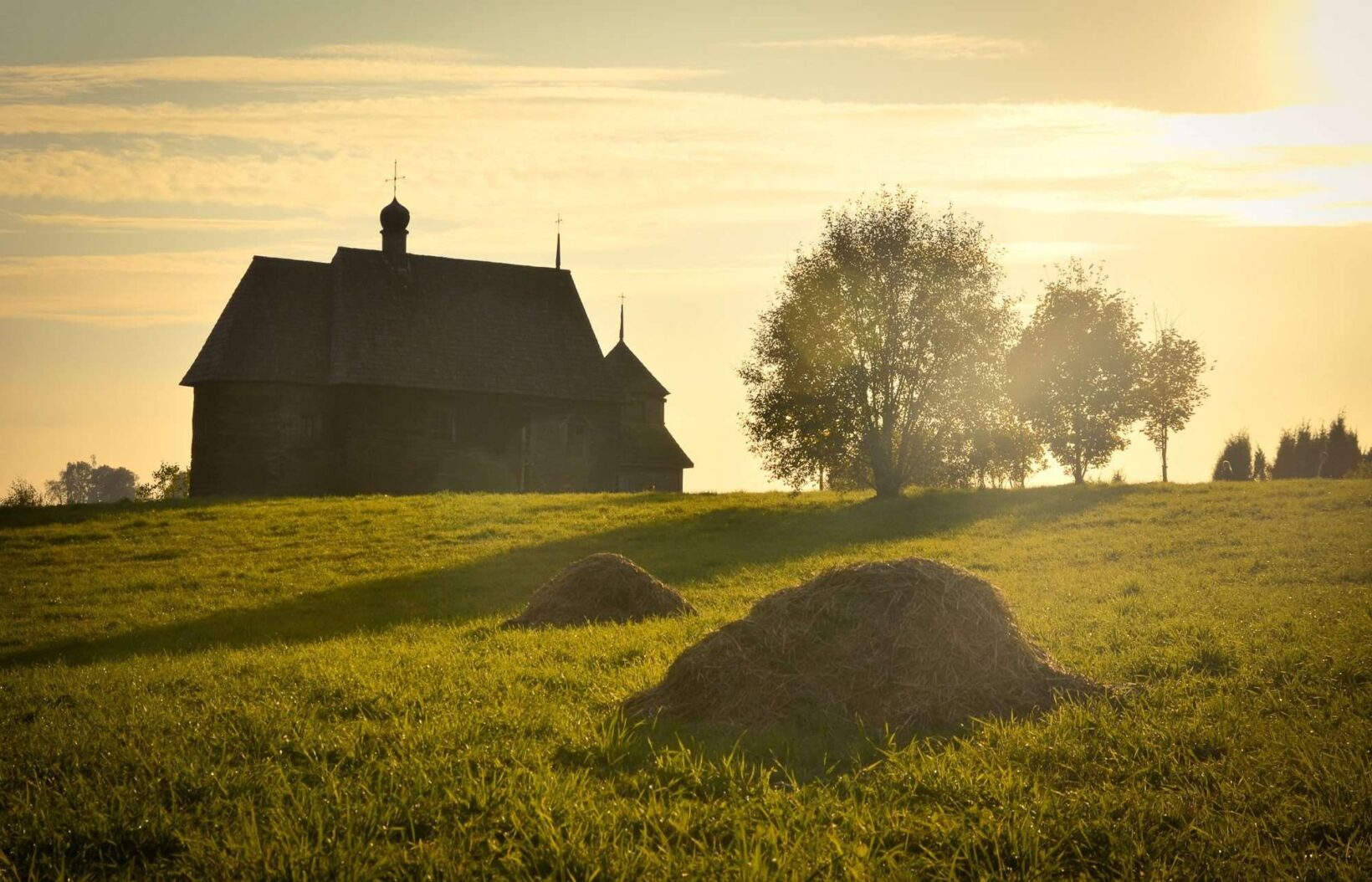 Address: Minsk District
Opening hours: 24 hours
Also known as the Belarusian State Museum of Vernacular Architecture and Ethnic Heritage, Strochitsy is a large, open-air museum featuring architectural and cultural elements from the 17th to the 20th century.
It has almost 40 different objects from the ethnographic regions of the Dnieper Region, Central Belarus, and Poozerye, all gathered into one location.
This includes the Pokrovskaya Church of the 18th century, a blacksmith's shop, a bathhouse, and even different houses of poor and well-off peasants from the featured time periods. Apart from the buildings featured, Strochitsy-Ozertso is also the site of regular folk festivals.
Silichi Ski Resort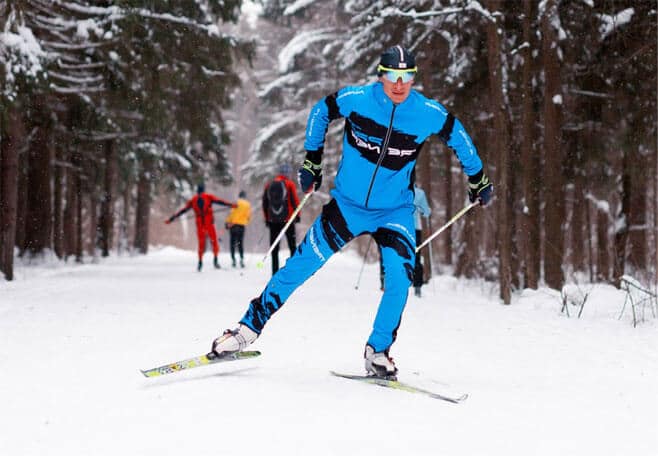 Address: Logoisk District
Opening hours: 9:00-17:30
First opened in 2005, this ski resort is easily one of the best in all of Belarus. The resort has three different skiing routes that are around 2.5 kilometers each, a daily capacity of 1,000 skiers, a four-chair elevator, hotel accommodation, ski equipment rental, and enough parking for 500 cars.
In short, even during peak skiing season, it'll be relatively easy to find a place to stay and ski here.
Check our overview of the best ski resorts in Belarus
Mound of Glory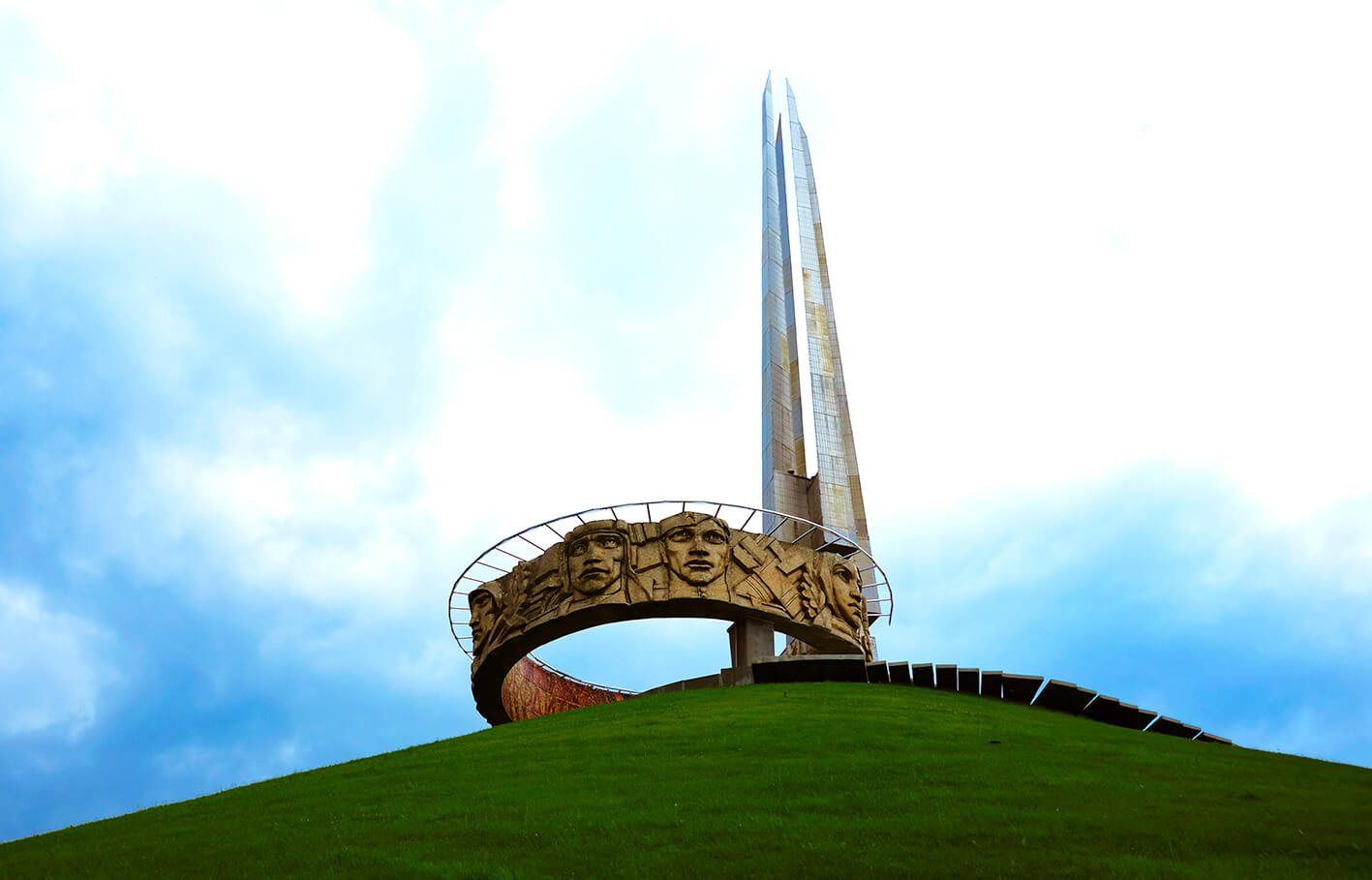 Address: Moscow Highway
Opening hours: 24 hours
This work by Soviet sculptor Andrej Biembieĺ commemorates a key point in Operation Bagration, in which the Belarusian Soviets successfully liquidate a German detachment.
True to its name, the impressive and towering 70.6-meter structure sits on a symmetrical hill, making it highly visible from kilometers away. If you're planning a visit, make sure to wear comfortable shoes as the top of the monument is quite the uphill hike.
These are just some of the places and experiences you can find in and around the Belarusian capital city of Minsk.
If you're planning a visit, keep this guide handy – not just so you won't get lost, but also to make the most out of your visit to this marvelous city.
Minsk is a very interesting city and our article cannot enlist all the reasons to visit Minsk in just a short article.
Learn more about places to stay in Minsk, the most interesting local activities, and what are the 5 attractions in Belarus that you cannot miss!