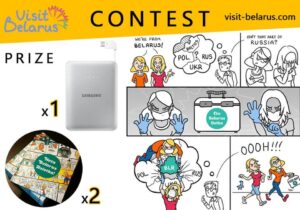 Hello, dear travelers!
We would like to tell about the beautiful country of Belarus to as many people as possible. That's why we decided to conduct a contest!
We have 2 great books"Heta Belarus Dzietka!" telling about interesting features of Belarus in a very fun way and the main winner gets a @Samsung powerbank for 8400 mAh!!
Rules are simple:
Like and follow our page (https://www.facebook.com/visitbelaruscom/)
Like and repost this post  https://www.facebook.com/visitbelaruscom/posts/425877384494195
Post a couple of facts about Belarus that you know in comments (if you never heard of our country before, just write "I just want the book to find out!").
We will choose the winners on 02.12. You can be from any country to take part!
Good luck and visit Belarus
?
Read some interesting facts abour our country here
Recent Posts