Hunting in Belarus is very popular among locals and foreigners.
Almost virgin forests and mild European climate create all conditions for a variety of wildlife and birds.
In Belarus, hunting for roe deer, deer, wild boar, hare, elk, wolf, partridge, geese, ducks, grouse and other animals is permitted. And, even for the handsome symbol of Belarus – European bison – the largest animal of the continent!
However, this is not a cheap entertainment, and you should get permission in specialized hunting farms. Find out everything you need to know about this popular activity in our article!
The country is also interesting and attractive for fans of hunting due to the fact that the total area of ​​hunting grounds is about 17 million hectares. True lovers of this activity have enough space for their favorite hobby in Belarus. Fans of hunting tourism are encouraged by the fact that almost all the year round it is allowed to hunt for more than 50 species of animals in the country. Thanks to these advantages, many foreigners, as well as amateurs of active tourism annually spend their holidays in this land of forests.
But, is it not as easy and simple, as it may seem at first glance. Let's look at this in more detail.
From our article, you will find out:
Everything about hunting in Belarus;
Popular places;
Prohibitions and permissions;
Hunting farms;
Rates for hunting tourism in Belarus;
Where to buy weapons.
Rules and Bans on hunting in Belarus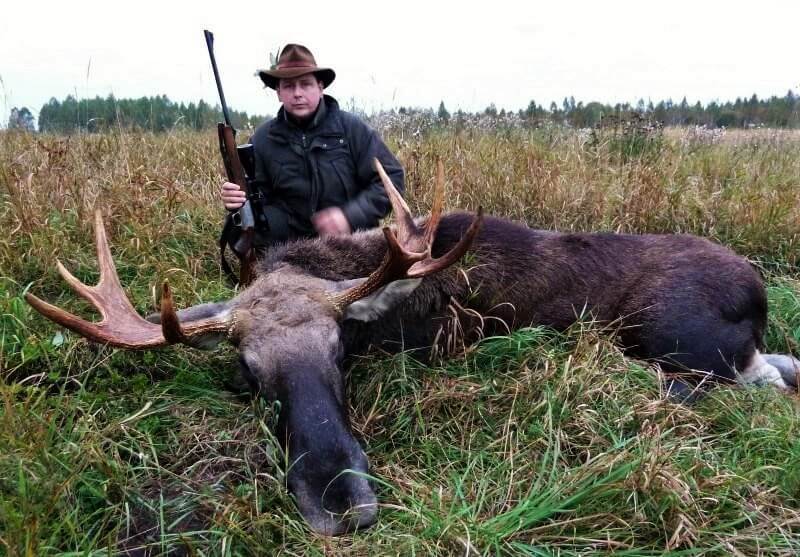 Local and foreign hunters highly appreciate this kind of tourism in Belarus, as there are many kinds of animals allowed to hunt for in the country. Today, anyone can obtain a license for one of these species:
Hunting from ambush (wild boar, deer and roe deer).
Hunting with dogs (elk, roe deer, deer and wild boar).
Hunting from the approach (beaver, boar, roe deer, moose and deer).
Hunting from the towers (you can hunt only for wild boar and deer).
Hunting with a quiet approach (deer, wild boar, roe deer and moose).
To maintain the population of certain species of animals there are annual bans. The hunting calendar for 2017 will help you to familiarize with the terms.
 Hunting Calendar 2017
| | |
| --- | --- |
| Animal | Period when hunting is allowed |
| DEER | August 20 to January 31 |
| ELK | August 20 to December 31 |
| ROE | May 15 to December 31 |
| HARE | October 7 to January 28 |
| BOAR | All year |
| CAPERCAILLIE | March 20 to May 10 |
| BLACKCOCK | March 20 to May 11, August 12 to December 10 |
| GROUSE | September 2 to December 10 |
| PARTRIDGE | September 2 to December 11 |
| WOODCOCK | April 1 to May 14, August 12 to December 10 |
| GOOSE | March 11 to May 14, September 16 to December 9 |
| DUCK | March 11 to May 14, August 12 to December 10 |
| WOLF | All year |
| FOX | All year |
Requirements for foreign hunters in Belarus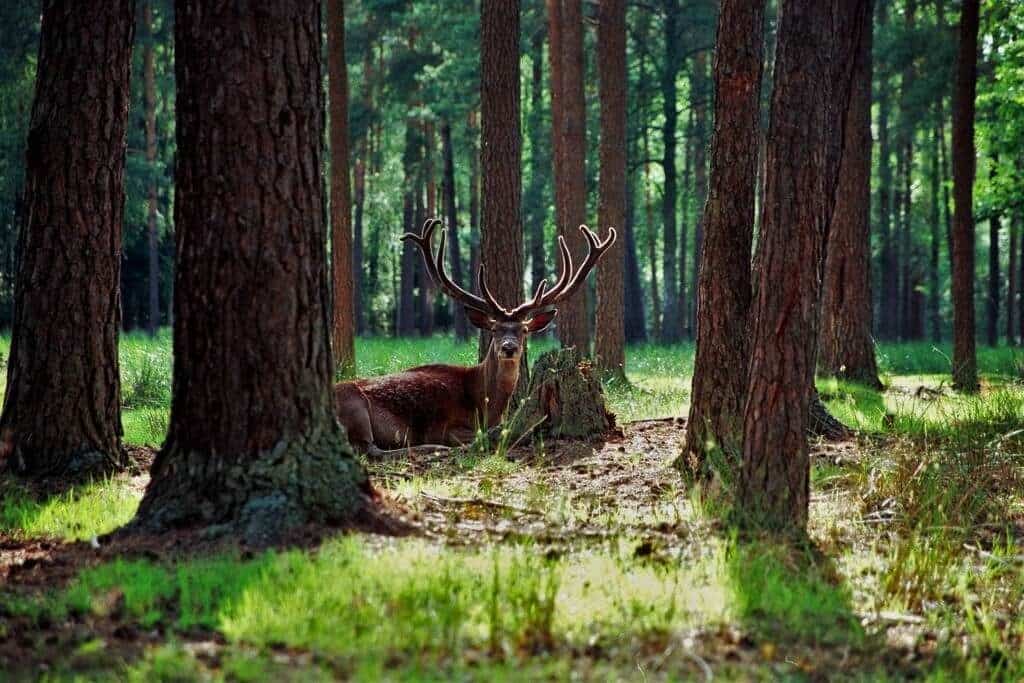 On the territory of the Republic, you can hunt while having the following permissions:
You should have a permission to carry and store a hunting rifle (issued at your place of residence);
permission to import / export a hunting rifle and ammunition for it, issued by the employees of the internal affairs of Belarus;
an official permit for carrying, storage and use of hunting weapons and ammunition;
permit for hunting.
Prices for hunting in Belarus
It should be noted that the prices for hunting in Belarus depends on the type of animal that you want to hunt for. Currently, the average prices vary from 10 to 1000 euros, but they can be higher. While the final cost depends on the hunting grounds, where you go hunting.
Best Places for Hunting
There are many places in Belarus to hunt for large and small animals: in the south, north, west and east. However, according to many hunters, one of the best places for this activity is the Bralslav region. On the territory of the "Braslav Lakes" National Park, hunters are provided with 26 hectares of hunting grounds and a large variety of game, which is allowed to hunt for almost the whole year. You can also enjoy this activity in the "Bialowieza Forest", "Pripyat" and "Naroch" National Parks, as well as "Berezinsky Biosphere Reserve".
Hunting Farms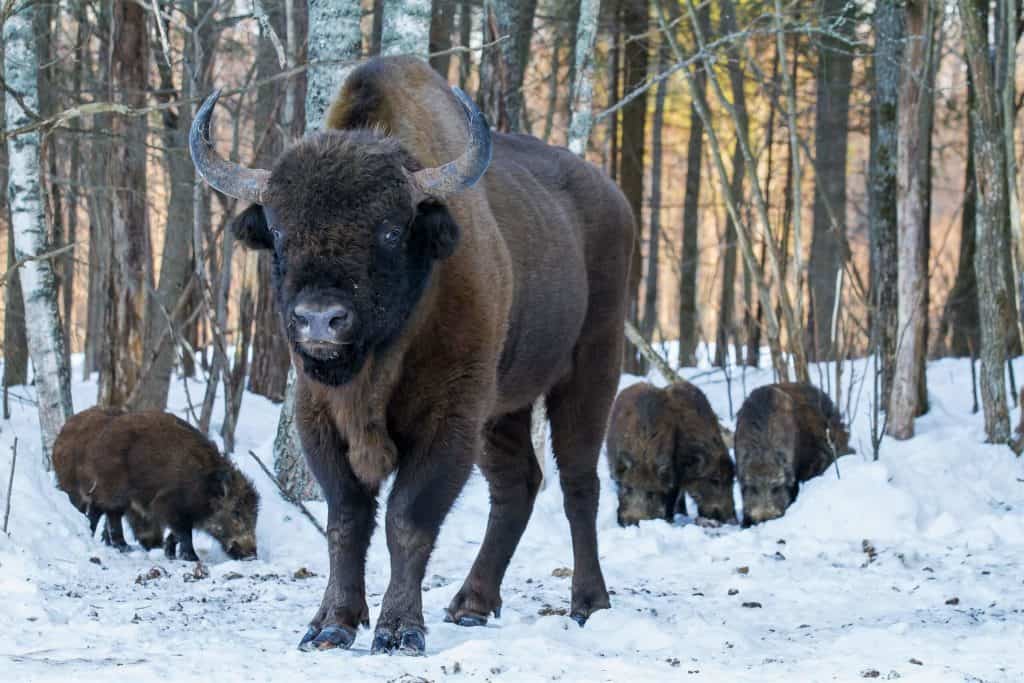 In Belarus, there are many hunting farms that offer their guests not only to hunt, but also to arrange an excellent active or, conversely, relaxing holiday. The hosts, as a rule, help with all the nuances of hunting. Foreign tourists get a visa support and help with other documents, they are met at the airport, provided with an interpreter.
Hunting farms provide accommodation and meals during the hunting tour, take into account the guests' wishes for leisure activities, can arrange an extensive tour around the attractions of Belarus. In addition, the organizers will prepare a place for hunting, invite the huntsmen, assist in the transportation of hunting trophies.
There is a lot of Hunting farms in Belarus, and they are always near the forest. Let's look at some of them.
Beliy bor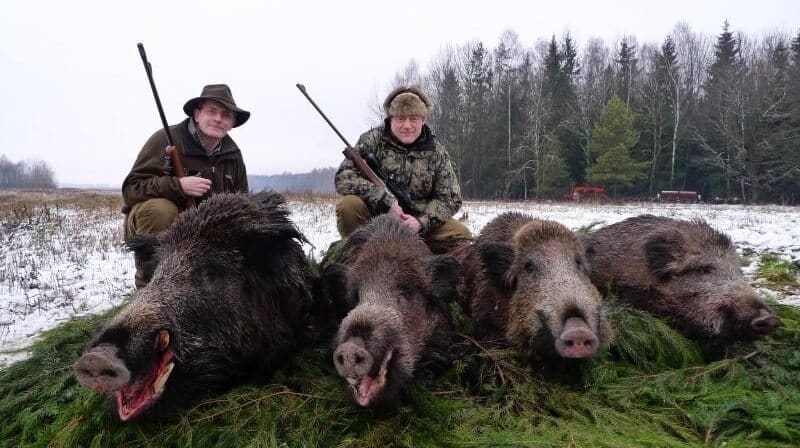 "Bely bor" hunting farm is located in the central part of Belarus, in the Minsk region, on the territory of Slutsk and Kopyl districts, only 80 km from Minsk and 30 km from Slutsk. It offers year-round hunting for moose, deer, wild boar, roe deer, wolf, waterfowl and wading birds. The high number of animals, the availability of shooting towers in the farm, recreation centers create all conditions for successful hunting. It also provides guest houses, which have everything you need for a good recreation, and other services for an unforgettable pastime.
For more information, visit: http://beliybor.by
Krasnoselskoye
Krasnoselskoye Hunting farm is located near Minsk, just 40 km from the capital, in the direction of Molodechno. The farm offers hunting for wild boar, elk, wolf, deer, roe deer, beaver, and fowl. Also, Krasnoselskoye provides all services for the organization of this activity. For a complete rest, there is a hotel equipped in a bath, billiards, kitchen, barbecue and a lake.
Official website: http://krasnoselskoe.by
White Path (Belaya Tropa)
White Path hunting farm is located in Grodno region, on the territory of Mostovsky district. The farm offers year-round hunting for elk, deer, wild boar, roe deer and birds, and provides a full range of services for its guests.
The base with all amenities is located on the shore of an artificial reservoir and is surrounded by a forest. The territory is protected, and includes a huntsman house, a cutting room with a refrigerator, a parking lot, an outdoor swimming pool and a sauna with billiards.
Official website: http://tropa.by
Obsterno
Obsterno hunting farm is located on the north-west of the Vitebsk region, in the Miory district. And, different from the above ones, the land includes part of the "Yelnya" reserve – the largest upland bog in Europe.
A cozy hunting base is located on the shore of a large and beautiful Obsterno lake, in the village of Zacharyrev. It specializes on ungulates: elk and roe deer. You can also hunt for a hare, marten, squall, squirrel, mink, muskrat and wild fowl. In addition to that, Obsterno organizes observation of wild animals, fishing, walking, boats riding, kayaking, riding cross-country vehicles, quads, snowmobiles.
Official website: http://obsterno.by
Where to buy weapons for hunting in Belarus
To buy a gun and related products, you need to get a hunting ticket – it is a certificate for the right to hunt in Belarus.
Below, we have listed a list of sites where you can find hunting goods: cartridges, shotguns, covers, traps, bandoleers, binoculars, flashlights, night vision devices, optical sights, backpacks, hunting rucksacks, knives, sharpening stone, flies, baits, clothes for hunting, glasses, raincoats and everything for caring the weapons:
Belarus is great for hunting tourism! Visiting it, you can enjoy all the advantages of this region, since the prices for hunting here are much lower than in Europe, and even in Russia. The opportunities for shooting various animals are huge, come and you will not regret! Read about national parks of Belarus. We wish you a successful hunt!
Text: Dronina Inessa
Plan your trip to Belarus
Find the best prices for flights to visit Belarus using Skyscanner and book the best hotel using Booking.com