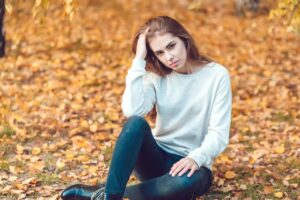 For a long time, Belarus has been a part of the USSR, being under the influence of Soviet culture, but even this couldn't erase the national features of the Belarusian character.
In order to create an image of a typical Belarusian, one should put aside all the stereotypes about the president and folk cuisine and look at this wonderful country at the upside.
Today, we are going to talk about the appearance and features of Belarusian girls.
The Belarusians are the descendants of the ancient Eastern Slavs. The very root "bel" (which means "white") in the name of the country indicates the purity and authenticity of its people. The appearance of the Belarusians combines large eyes, turned-up nose, pointed chin, and plush lips, which makes the features of the entire nation aesthetically attractive in most countries of the world.
If you try to stand out the main features of the attractiveness of the Belarusian girls, then there will be a lot of them. The image of Slavic beauties is reflected in the pages of many literary works.
Long legs, beautiful waist, slender neck, and spirited features – this is the standard of fashion models all over the world. Also, most Belarusian women have fair skin, blue eyes, and long, blond hair. This unique phenomenon is quite common for Belarus.
A good education is an integral feature of Belarusian girls. Very little girls do gymnastics, ballet or dancing, master musical instruments, or learn painting. Also, Belarusians have a generous and sincere soul. If you ask such a woman to take a picture with you, she will willingly agree.
It's said that a beautiful woman always knows how to dress properly. The Belarusians prove this fact with their own example: although the fabrics aren't always of high quality, the clothes help women emphasize their individuality.
If you look at Belarusian girls, it seems that they never go bare-faced. But the most important thing is that they don't use a lot of cosmetics. This gives them the opportunity to look naturally beautiful.
Belarus is called the land of open-hearted people and beautiful nature. Also, the history of this wonderful country is closely related to numerous wars. This was the reason for the formation of the temperament and features of Belarus women – they are very gentle but resilient and independent at the same time. Throughout the centuries, these women have demonstrated incredible heroism, so they've gone a long way.
Belarusian women can combine work and their household chores. The position of women in the country is relatively high: they play an important role in public life. Under the mask of personal beauty, there is a decisive heart. And it's impressive.
There are some interesting facts about Belarusian women:
About 25% of businesses in Belarus are run by women. Most of them work in very serious fields that are traditionally considered to be male: industrial production, construction, and innovative industries. World statistics show that women's business is 4 times less prone to bankruptcy than men's business.
In Belarus, the average salary of women is 20% lower than that of men.
About 60% of Belarusian women speak English, and 63% – German.

Why do women get married? 71.7% are married because of love, 27.1% are guided by the desire to legalize the actual relationship; 22.5% of women marry due to pregnancy, and 15, 6% are simply afraid to be lonely.

There are several dozens of female organizations in Belarus: 33 women's public associations, and 14 organizations that have international and nationwide status.
Be sure to visit Belarus and communicate with beautiful girls to experience first-hand all the positive features of the Belarusian character! Who knows, maybe after an amur date with such a girl, you will understand that this is your true love.