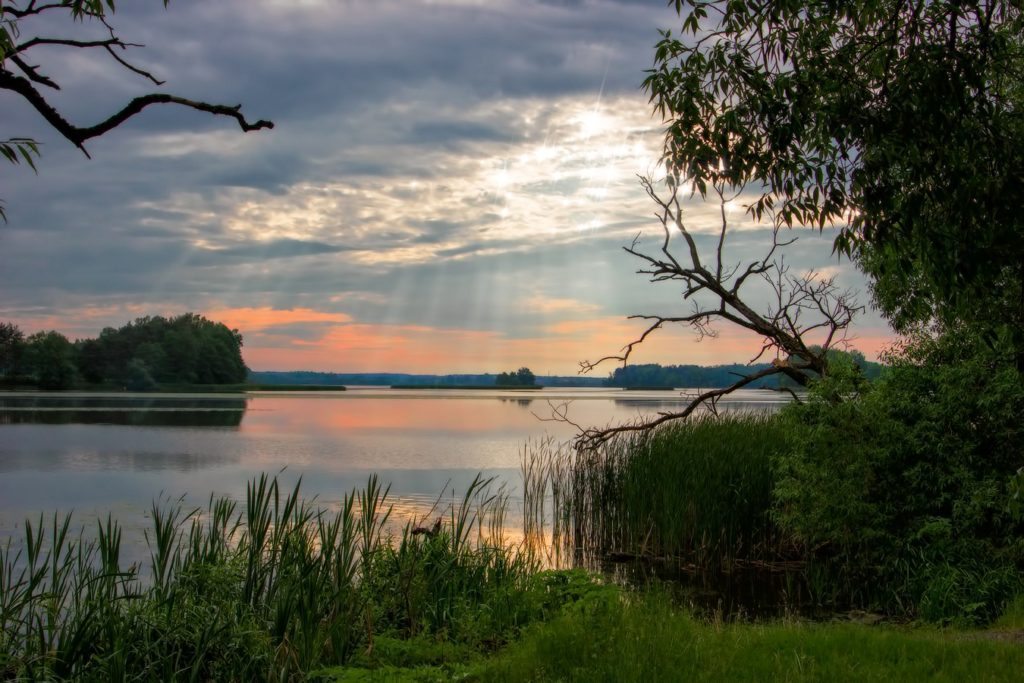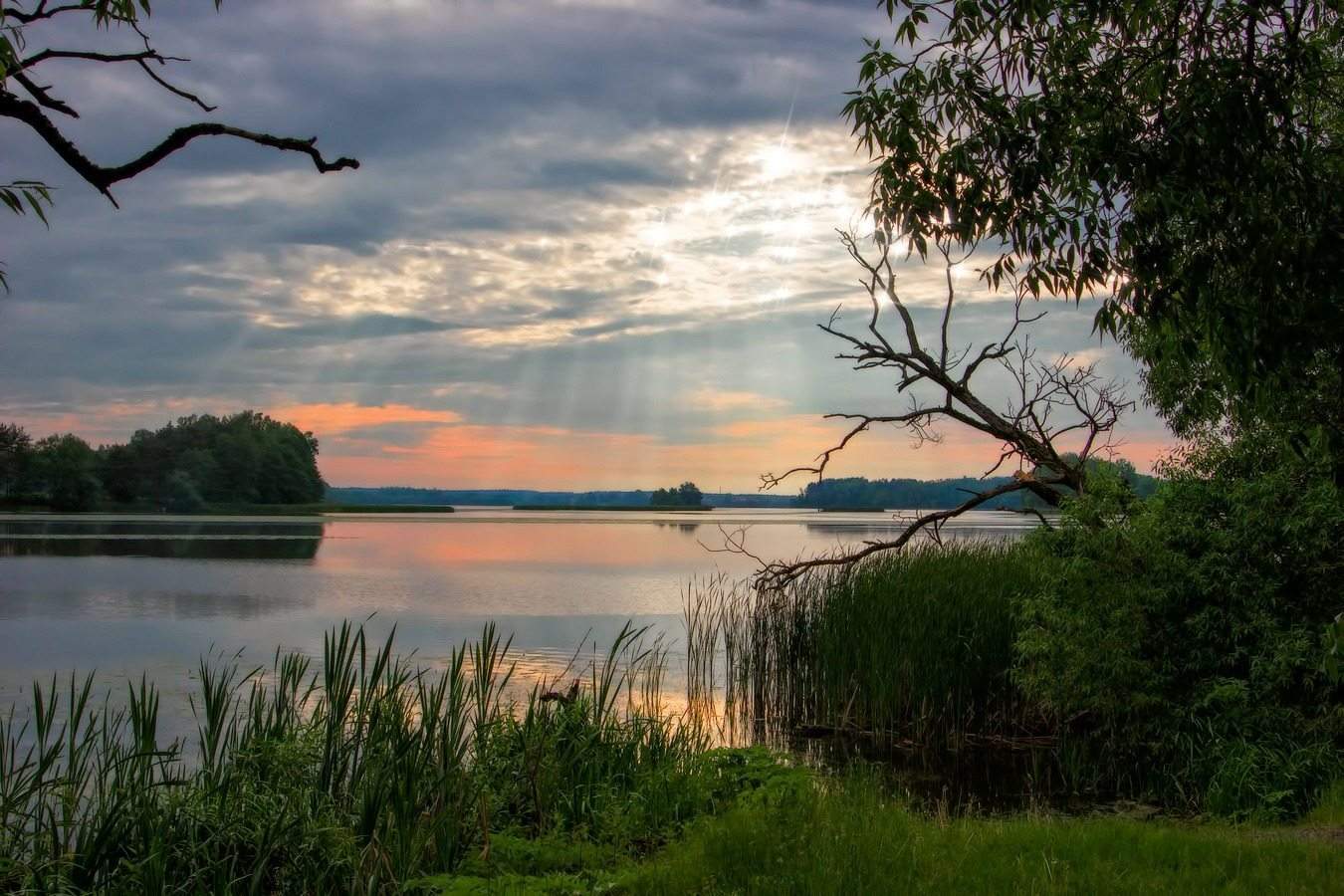 Summer is the best time for camping, especially in Belarus — our country is called "blue-eyed", because there are more than 10 thousand lakes and 20 thousand rivers in the country!
Just imagine: wild lakes, dense forests, hiking ecological trails and amazingly fresh air. Gather your best friends, pack a tent, pot, a pack of pasta with stew, a guitar, and start the way for a real camping adventure.
Later in the article you will learn about the most beautiful places in Belarus for a variety of outdoor recreation: from wildlife to the feeling that you are visiting your great-grandmother in the village.
Camping in Belarus is appreciated among the guests of the country for the good view, varied rest and availability, because the price of a tent-place is about 4 rubles per person (2 euro!!!), camping on wheels — from 10 rubles. You can rent a place in the tourist houses near the lake can be from 40 rubles for a couple per night.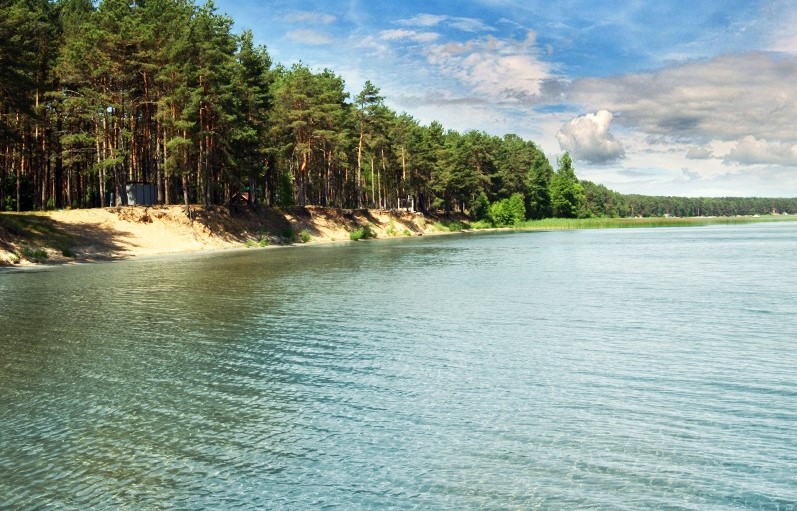 Prices for fishing are 4 rubles per day, the allowed weight of fishing per day is about 5 kilograms per fisherman.
The most popular places for camping in Belarus are its national parks, especially Naroch, and Braslav lakes.
To explore Belarus, check our 5-day routes to explore the country the way you like!
Vitebsk region
Braslav Lakes National Park
If you wanted a vacation "less forest, more lakes", then this park is for you. 8 tourist camps of a general type are equipped on the territory of Braslav Lakes.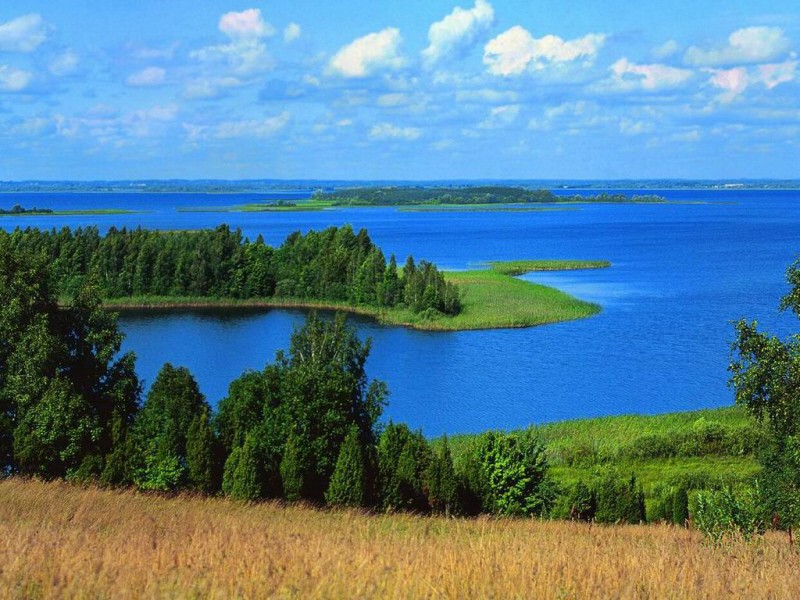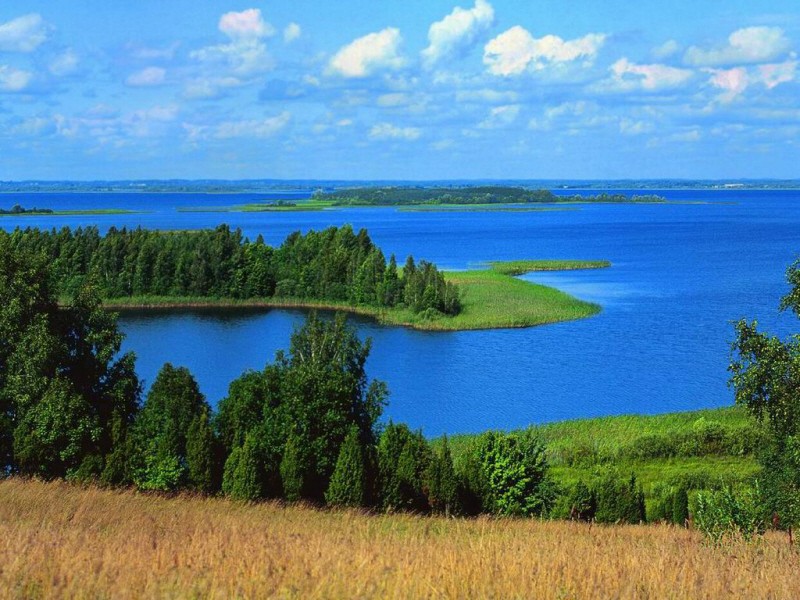 They are located near the lakes and are equipped with canopies (pergolas), fire places, waste bins, toilets (you don't have to search the bushes, everything is well-arranged). Prebooking of a place to stay is not required, you can pay directly at the parking lot (its free for children under 6 years old).
Average occupancy of places to stay is about 50 tents, the largest capacity is on the place Okmenitsa on the lake Strusto, 165 places for tents (55°42'48.2″N 27°00'26.8″E).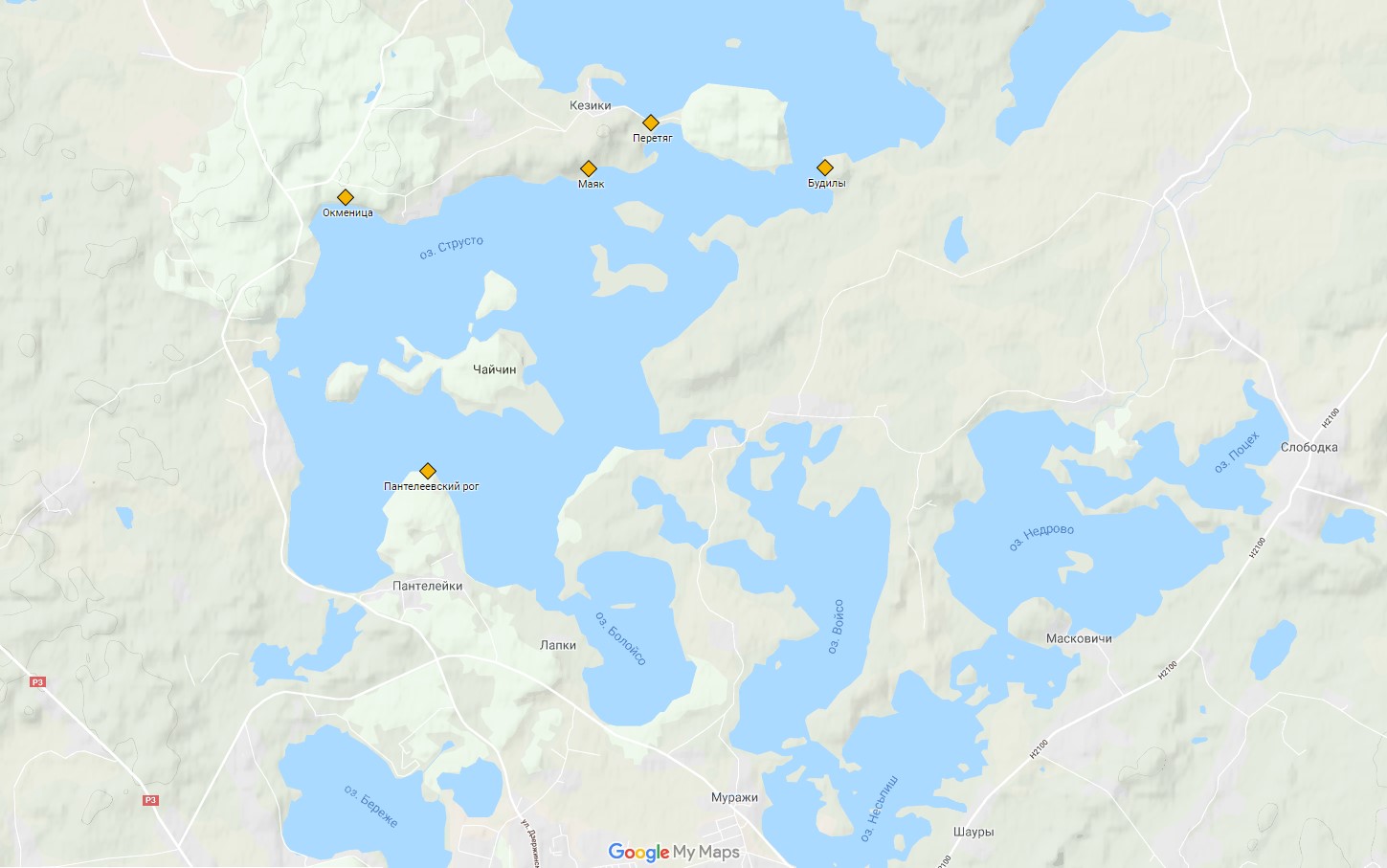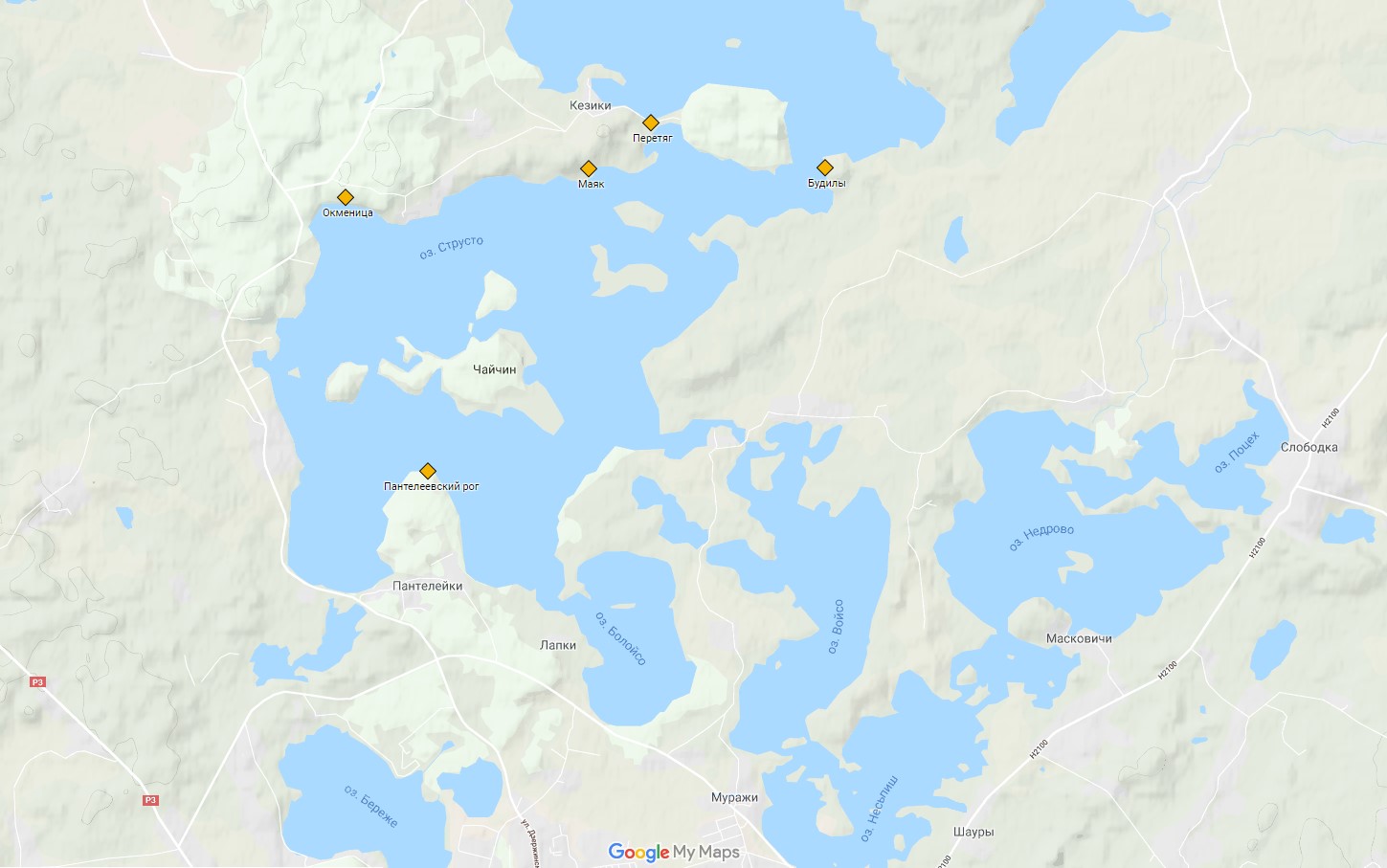 Price for one person per day (till 5 days) — 4,5 rubles, and for 6 and more days — 4 rubles.
Braslav lakes are the dream of the angler, each lake has about 58 species of fish, but you'll need to buy the fishing permit in advance. On the lakes of the National Park "Braslav lakes" you can catch no more than 5 hooks. The catch limit per fisherman per day is 5 kilograms. On some lakes it is allowed to go spearfishing in the daytime.
Price for fishing with rigging is from 4 rubles per day, if you stay more days you will pay less.
If you're a fan of fishing, Belarus is a great place for that. Check our fishing guide here!
There are also about 10 places where fishing is free: 
lake Misaki, Ostrovito, Plutonic, Janka,
rivers Drysviaty, Druika, Raka, Okunevka, Protoka.
Let's talk a little more about lake Strusto, as it is on it the largest number of sites.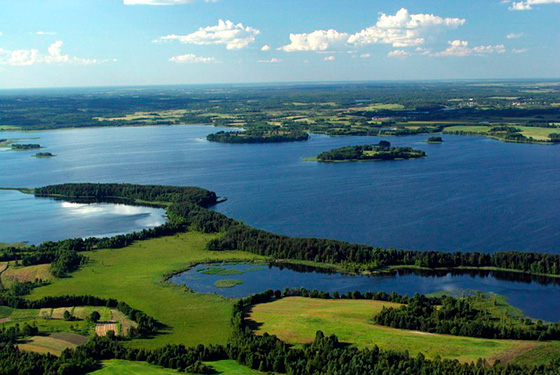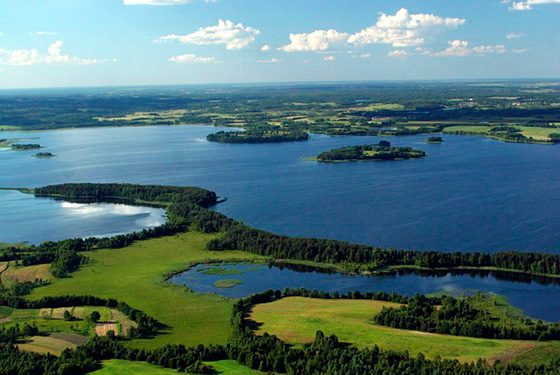 Strusto lake is located in 4 kilometers from Braslav (you can go for a walk in this cozy city). The shores are sandy, flat, the water is clean, as Strusto refers to a well-flowing waters.
Special information for anglers! The lake is inhabited by bream, pike, eel, IDE, grass carp, perch, roach, bream, tench, silver carp, Golden carp, burbot, whitefish, smelt, Rudd, bleak, ruff, gudgeon, tweezer, petticoat and 2 species listed in the Red book of the Republic of Belarus — grouse, smelt.
Minsk Region
Car Camping "Naroch»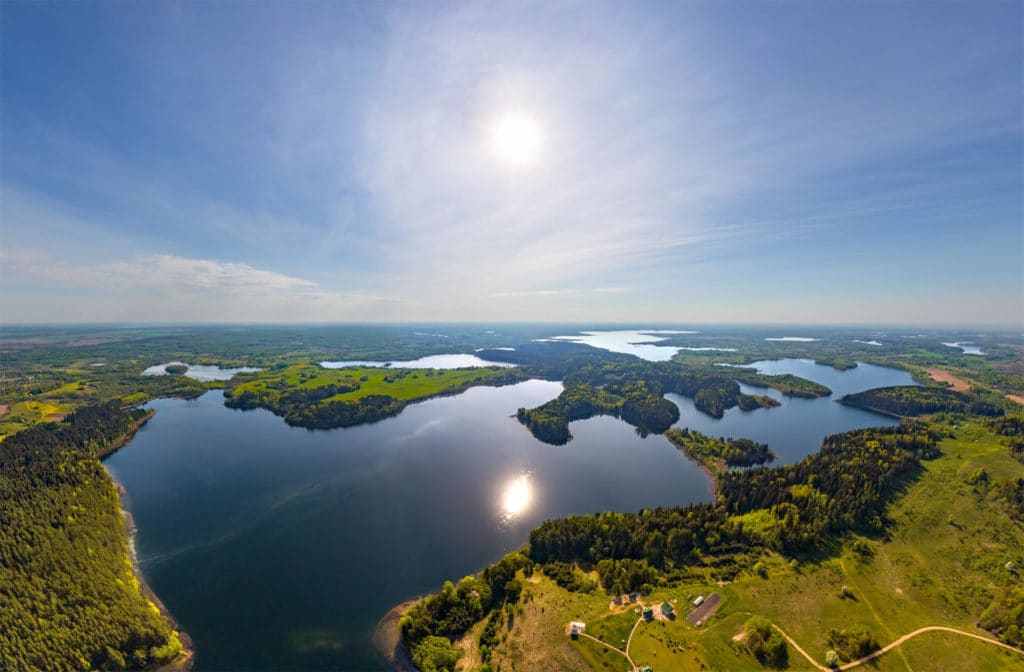 Car Camping "Naroch» is an ideal variant for those who loves pine massif on the shore of the largest in Belarus lake Naroch (find it on the map here) with white sand, gentle shore and crystal clear water!
There is a resort village Naroch near the camping (in 12 km), where you can go for a walk or shopping for dinner.
On this camping you can stop:
In a comfortable hotel for up to 40 people from 40 rubles per day per person (possible option with Breakfast, lunch and dinner for 9 rubles per serving, and for fishermen — cook can prepare your catch);
2 cozy houses for 4-6 people each;
module for up to 38 people;
tourist Parking in summer for 7 rubles per day per person;
Parking for motorhomes for 20 rubles per day for the motorhome;
On the territory of the camping you can find a wild stream of spring water! It is also allowed to fish, there is a place for windsurfing and kiting, equipped gazebo, place for grill, active games.
If you'd like to dive into the Belarusian rural culture surrounded with the pristine nature, check our Belarus ecotourism guide!
Natural complex "Blue Lakes"
The natural complex "Blue lakes" is part of the National Park "Narochansky" and is a protected area, and from the Naroch to them only 30 kilometers, so you can immediately visit these 2 wonderful places.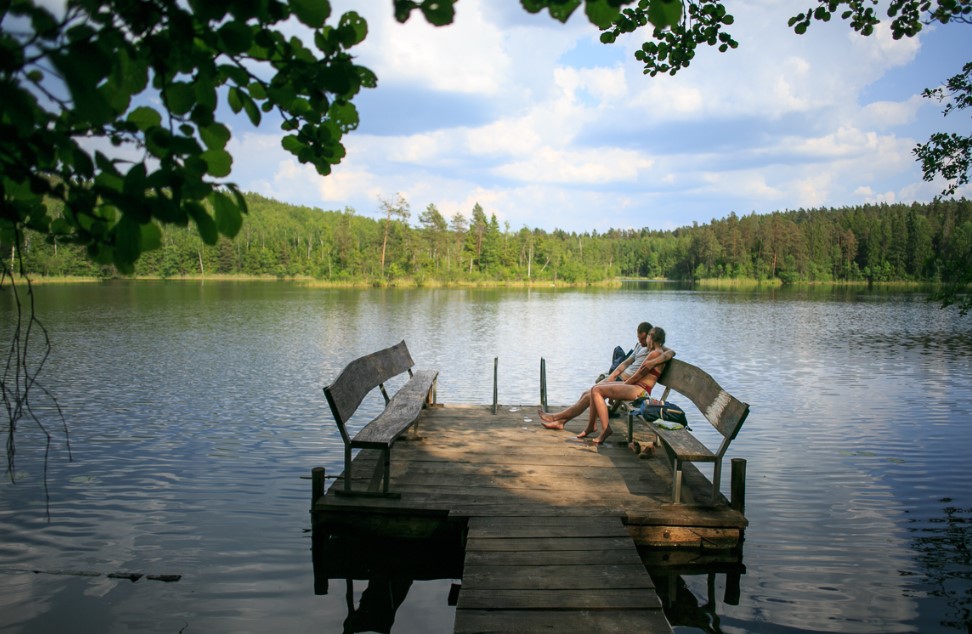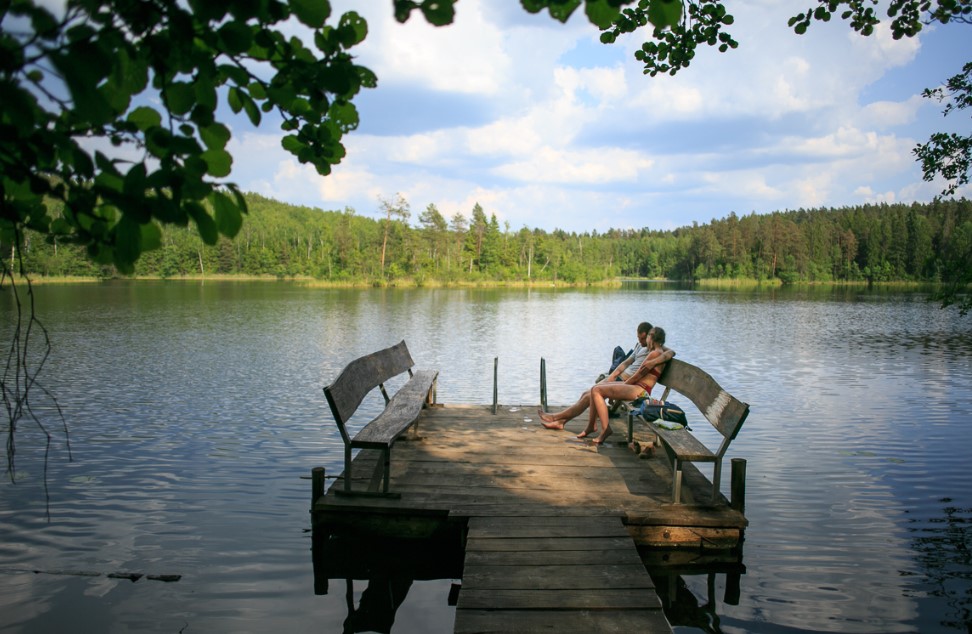 The natural complex "Blue lakes" consists of 13 lakes, but you can swim only in 4 of them: in the Glyblua, Balduk, Bolshoy and Malenkiy Boltiki.
There is an eco-trail going through all the territory of Blue Lakes. The entrance fee is $2. You should leave your car near the entrance on the parking lot.
The eco-trail consists of 2 routes: 4 and 7 km, going through which you can see incredibly expressive elevations and deep lakes. Due to the glacier that passed through the edges of the Park thousands of years ago we can enjoy this sites now.
The route of the ecological path includes equipped viewing platforms, resting places, wooden sculptural compositions. Along the entire trail there are signs, information notices, as mobile communication in the park does not catch.
Lake Globle best equipped bathing: gazebos, place under the grill, toilet, tower for jumping into the water, the bridges.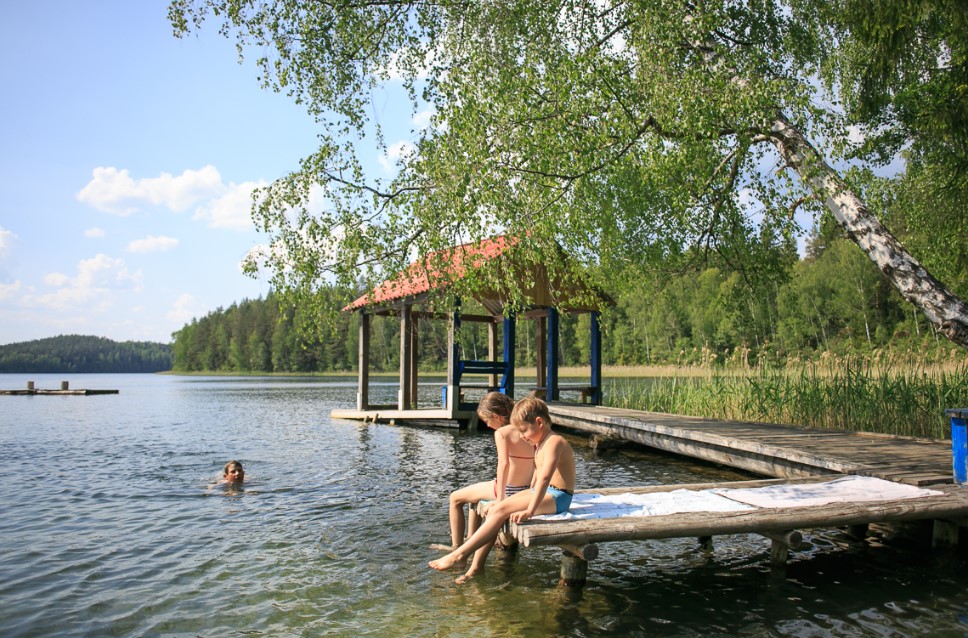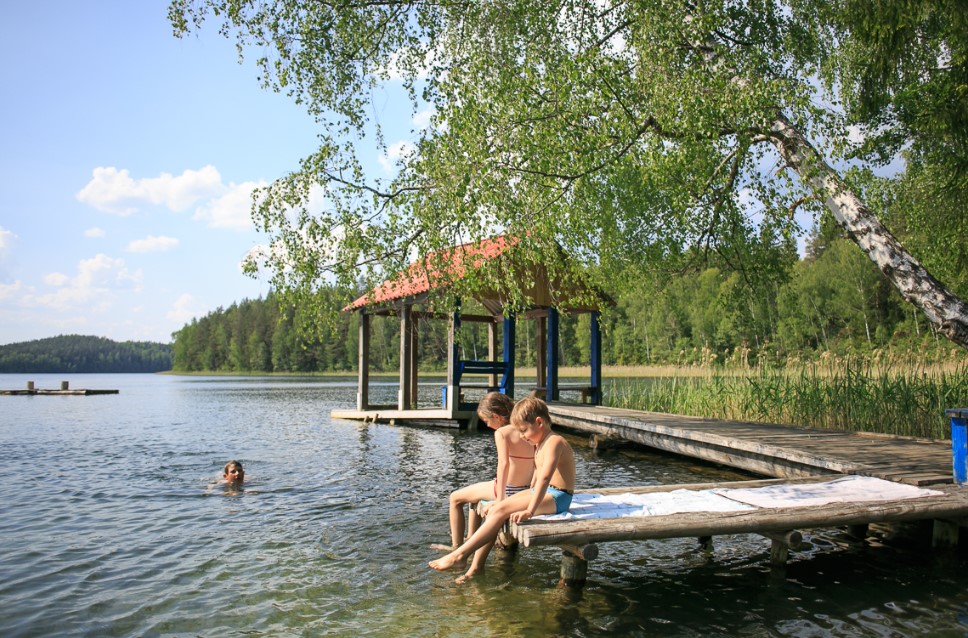 There are 2 options for overnight:
the agrohouses: in the village Grumbinenty is "Hutor bliz Grumbinentov" for 60 rubles a day for a couple in the village Boriss has the property "Blue lake" for 70 rubles per night for two, in the village of Voyshkuny is the mansion of "La Blastnykh Azer", which serves to stop the pair for 80 rubles per night.
there are also 2 places where you can stay with a tent for 4 rubles per day per person: on the shore of lake bolduk and "Melnitsa" on the channel from the lake Bolshoy Boltik.
This is a place for those who want to "clear your head" from the city stuff and bustle, think only about nature, admire the wild beauty and the singing of birds far away from civilization.
Learn more about nature reserves and national parks in Belarus.
Zabrodye Camping
The camping is located in 95 kilometers from Minsk on the shore of the Narochanka river (map is here) and it strikes guests with its atmosphere: about ten films were made here. This place is suitable for those who are not ready to completely break contact with civilization and comfort, but wants to plunge into the atmosphere of a civilized village.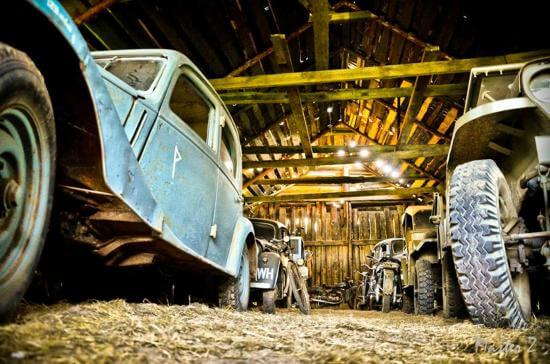 Zabrodye offers different variants how to stay:
House of Ryhor from 1887th with an old russian bed, kitchen with access to the garden — can accommodate up to 4 people, costs 100 rubles from may to October (seasonal house),
Sonya's house with its design and furniture of the 1914th — 190 rubles (up to 6 guests),
Hayloft at the pond — 35 rubles per person, can accommodate up to 10 visitors,
House on wheels near the bathhouse invites up to 4 guests, the house costs 75 rubles.
Tent camp near the river can be used from 15 rubles per day, there are enough places for 30 tents, and rent a gazebo by the river for 6 hours can immediately 40 people, but there are options: a heated gazebo costs 20 rubles per person and can accommodate 20 people, and not heated — 10 rubles.
There is also something interesting on the territory: there is a collection of four eras in Zabrodye — the Museum of the First world war, a collection of retro cars, the exposition of the USSR and the Museum of Belarusian life.
Guests are invited to use the baths: 200-year-old unique bath with juniper twigs and eucalyptus steam — for 3 hours for 200 rubles, can accommodate up to 6 people (40 rubles for each subsequent hour), a bath by the pond with a hayloft on the second floor, where you can also rest — can accommodate up to 8 people, 120 rubles for 3 hours.
You can also order food from homemade ingredients: for the Breakfast is $6 per person; lunch and dinner are offered for $12 per person. Also, sold on site and homemade milk, eggs, cottage cheese, honey, tea.
What else is there to do? Visit some excursions in the museums of Zabrodye, drive GAZ 69, BRDM-2 (in a group), take a master class on making ritual dolls, rent military historical form for the photo shoot and more.
Learn more about Zabrodye in our guide!
Grodno region
Oaks Camping
Camping "Oaks" is located on the shore of lake Novoe, and only 150 meters away flows the mighty Neman, which is sure to go, because its power is fascinating (map is here).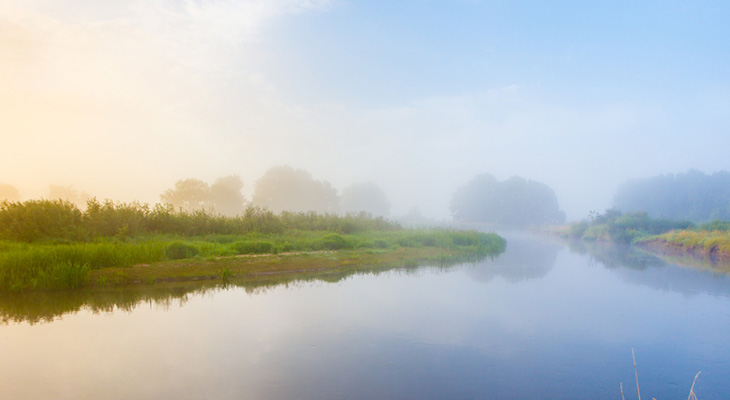 Parking "Oaks" can accommodate up to 20 guests in houses (from 40 rubles per day), rent camping tents, as well as provide place for your tents (from 4 rubles per day per person). There is a shared kitchen at the property.
The lake Novoe itself is a perfect place for fishing and swimming. Around is the sprawling mixed forest, so you can go in search of the mighty relic oaks, berries, mushrooms, watch as white lilies swaying on the lakes — what you need to relax over the weekend.
If you liked this article, plan your trip to Belarus here!
It was the top 5 most beautiful places in Belarus for camping. We hope that  you've decided with the help of our article which of the campsites to explore first. In order not to lose the names of the most picturesque places in Belarus, save the link to this page or share it with your friends.